It was once a beautiful mountain resort nestled atop Mount Penn, right off of Hill Road. In the late 1800's when the popularity of the Gravity Railroad was in full swing, Sphuler's Hotel was a very popular winery and also served as lodging for those who needed a place to stay. It was just one stop of many along the Gravity Railroad's loop which served to entertain locals as well as drew tourists from all over the region.
However after the Gravity Railroad's heyday was long behind it, the beautiful mansion that once housed thousands of gallons of berry wine became dilapidated, overgrown and shrouded in mystery.
By the 1960s the woman who owned the property was known as a bit of a recluse and an eccentric, so it is no surprise that legend started forming around her. Her name was Evelyn Haag Luther and this is her story.
Evelyn Haag
Evelyn was born in 1908, an only child to William and Bertha Haag. She would graduate from Reading Girl's High School in 1925 and continued her education at Keystone State Teacher's College (Kutztown), obtaining her teaching degree in 1927.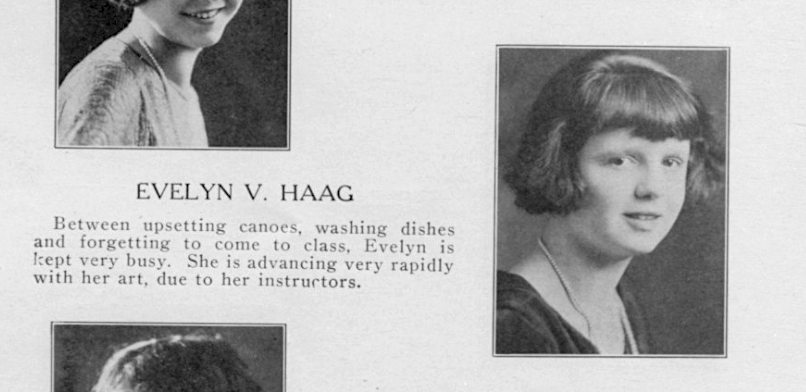 The Haag family lived at 1101 Chestnut Street in Reading when Evelyn was a teenager. They owned and operated a hotel there which housed long-term lodgers.
Immediately after college Evelyn got a job as a First Grade teacher at Woodrow Wilson Elementary School in Stony Creek, which was a part of the Mount Penn School System. It is unclear when exactly she retired, but her career there spanned into the 1950s. When inquiring about her to those alive today who had her as a teacher all comments were unanimously positive; she was a very kind and beloved teacher.
Evelyn was engaged briefly in 1934 to a man named Ernest Artz Jr., who lived and worked as a Steel Plant inspector near Pittsburgh. Her father, William, died in September of that same year, and coincidentally it appears her engagement dissolved around that same time. Perhaps she was hesitant to move across the state at a time when her mother might need her most. Even though she had her own career, she had continued to live with her parents into adulthood.
Bertha already had decades of experience in the hospitality industry when she assumed management of Spuhler's Hotel, after which was then renamed Haag's Mountain Manor. A 1939 Reading city directory lists Bertha Haag as still living at the 1101 Chestnut Street property. However, the 1940 census list Bertha and Evelyn as residing at the Spuhler's Hotel building in Lower Alsace. Therefor we can pinpoint late 1939 to early 1940 as the time of their move. The property was not deeded to Bertha and Evelyn until May 1945. They rented the property before widow Gertrude Spuhler decided to sell it to them.
Also listed as living in Haag's Mountain Manor in the 1940 census was a "lodger" by the name of Thomas Luther. His 1942 WWII draft card listed Bertha as his employer, and indicated that he was a bartender at the manor. He is the man Evelyn would eventually marry, though the circumstances around the union leave a bit to be speculated about.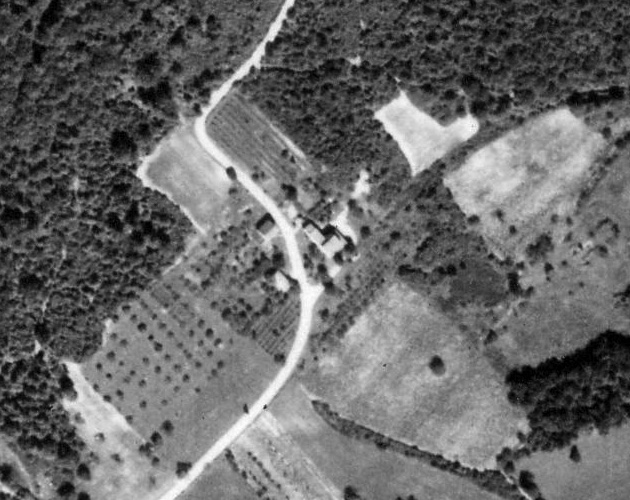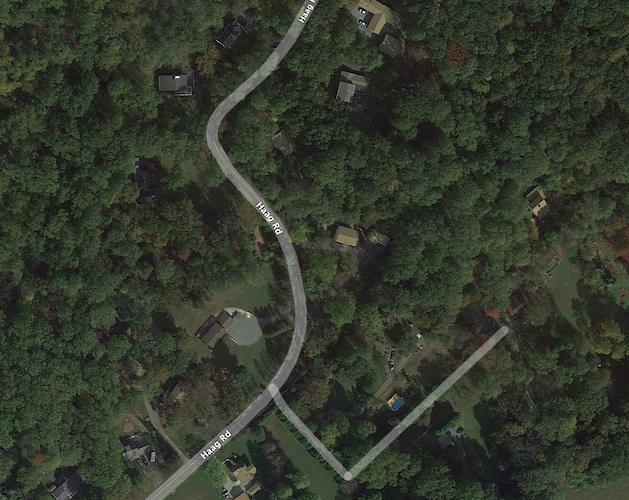 1938 Penn Pilot aerial vs. Google Satellite today
Thomas was born in Reading but moved with his family to Philadelphia as a child. He eventually married a woman there and had two daughters but seemingly left them in the late 1930s and came back to Reading. Assumingly, he found himself a home and job at Haag's Mountain Manor.
In 1949 Bertha sold the 11th and Chestnut hotel to relatives. Bertha perished on September 24th 1956 from complications of arteriosclerosis. Haag's Mountain Manor closed for business immediately following her death.
Thomas Luther never actually divorced the wife he left in Philadelphia, but she died in 1961 leaving him legally widowed. However, it was not until August 1968 that he and Evelyn applied for a marriage license and married. In February 1969, only six months after marrying Evelyn, Thomas passed away. They had known each other and lived in the same house nearly three decades by the time they wed.
This leaves one to speculate that maybe their union was not necessarily romantic in nature. Perhaps it was merely a practical way to ensure that Evelyn wouldn't become destitute after Thomas's earthly departure. Thomas was a veteran and likely received a military pension – one that would continue to be paid out to a spouse. Perhaps he felt the need to take care of her beyond death.
Evelyn continued to live at the manor house after Thomas's passing. Perhaps lonely and traumatized by the deaths of two of the closest people to her, she started collecting animals. It is said that she cared deeply about their welfare. Yet somewhere along the line her good intentions were foiled by the state of her own mental health.
By the time of her death there were roughly 50 dogs and cats living on the Haag's Mountain Manor property. One anecdote recalled by a witness was that one dog was actually living on the roof of the porch. It was chained to a doghouse that was also on the roof, and Evelyn was often seen feeding the animal out of the second story window.
As the word of this hermitic woman spread, she became known as the Haag Hag, and was something to gawk at by teenagers who would drive up to her property to witness the spectacle and harass her. This perhaps contributed to the deterioration of her mental facilities.
Evelyn died quietly in the manor house in February of 1977. The legend was that she was partially eaten by her own dogs. The only informational clue into this claim is this death notice that ran in the Reading Eagle the day after her body was found: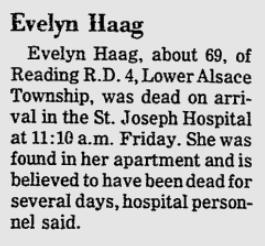 One can only imagine what a pack of hungry dogs might do to survive after several days of not being fed. Most of them were taken and ultimately euthanized by the Animal Rescue League due to the deplorable conditions in which they lived. The ending to this story is not a happy one.
Haag's Mountain Manor was razed the summer after Evelyn's death. The condition of the building was so abominable that the estate determined that the value of the property actually increased without the building on it. Evelyn had no heirs. Her estate was contested by several people who all claimed that Evelyn had promised them part of her property in exchange for services they had done on the home while she was alive. However, Evelyn never actually made a will.
The land that once made up the Spuhler's Hotel property was subdivided and developed in the half century since Evelyn's death. The namesake of Haag Road is the only lingering connection to the unfortunate end of Haag's Mountain Manor.