Wernersville's passenger rail history began in June of 1857 when the Lebanon Valley Railroad initiated service from Reading to Lebanon. Service was extended all the way to Harrisburg the following year when the Lebanon Valley Railroad was bought out by the Philadelphia and Reading Company (later became Reading Railroad).
The first Wernersville train station was built on this site in 1881 and was replaced by this current structure in 1927.
Wernersville's stop was one of the largest on Reading's Lebanon Valley line and saw 17 daily passenger trains in 1914. One of the reasons for this high traffic was the South Mountain health resorts that drew visitors from all over the region.
The Reading Eagle article from 1927 covering the opening of this station states that the very first ticket was sold to Dr. John Wenrich, who was the son of Grand View Sanatorium's original co-founder Dr. Reuben Wenrich. John at that time had recently taken proprietorship of Grand View with his brother – his father Rueben died the year before. That very first ticket was stamped Wernersville to Reading.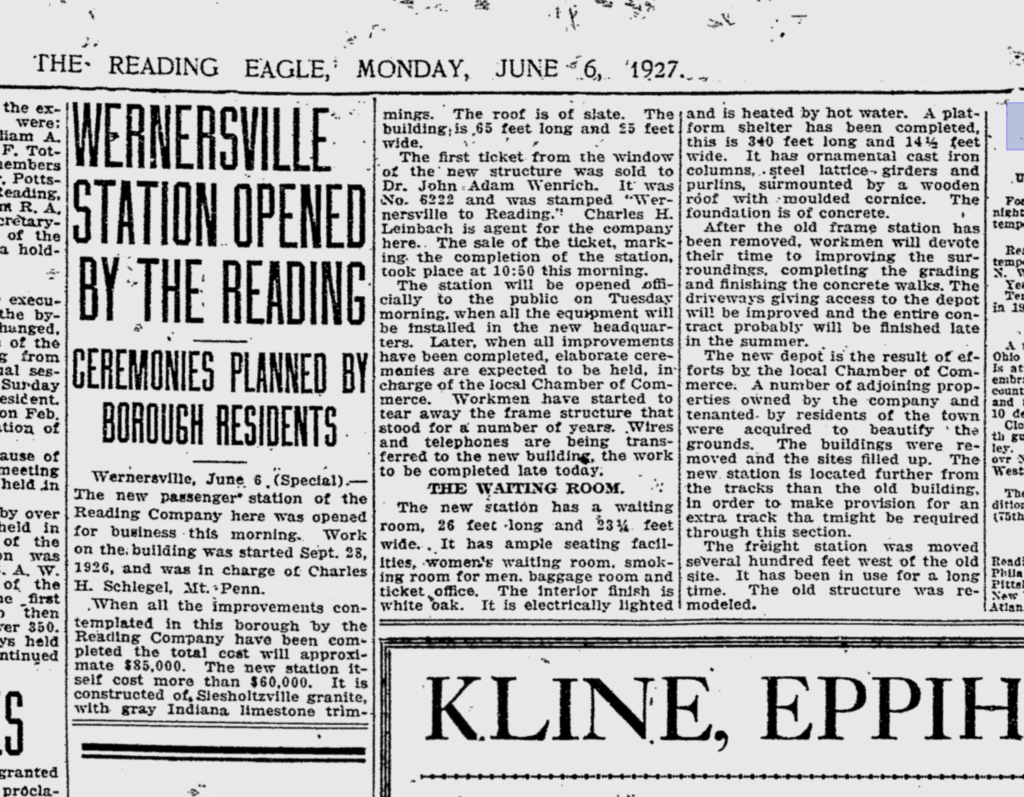 There was one tragedy at Wernersville Train Station on May 20th, 1912 when a woman was struck and killed by a train. The Reading Times reported that 30 year old Dolly Crossland was running late to meet her lover and was walking the tracks to get to the station quickly. As a west-bound train approached her she jumped onto the other track and unknowingly into the path of an east-bound passenger train. She almost made it to her lover – she was hit roughly 150 feet west of the Wernersville Train Station.
The heyday of south mountain health resorts were in their decline by the time the new passenger station was built in 1927 but passenger rail continued to serve the Wernersville community until it was terminated for the entire Lebanon Valley Line in June 1963.
After closure the station and the large parking lot in the center of town on which it sits was sold to the next-door Hoover Motor company. They used the lot for cars and the passenger station for storage. Very little maintenance was done to the building in the 40 years Hoover owned it.
Hoover deeded the property to the Heidelberg Heritage Society in 2003 for $1, however, the society had their work cut out for them with the restoration project. It took the better part o f a decade but the train station was completed and rededicated on June 8th, 2013. It is used by the society for open houses and other events.