Photos Courtesy of Jere Stamm
On Sunday morning, December 4th, 1977, 26 cars of a Conrail freight train derailment occured in Wyomissing right near the intersection of Clayton and Penn Avenue. The train was bound for Bethlehem from Harrisburg, and was carrying coal.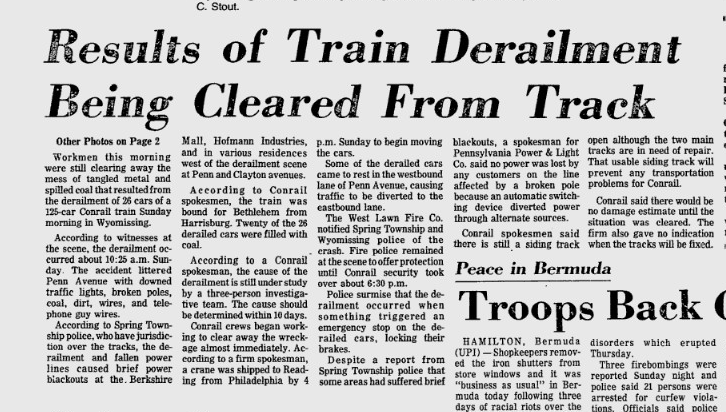 Workmen this morning were still clearing away the tangled metal and spilled coal that resulted from the derailment of 26 cars of a 125-car Conrail train Sunday morning in Wyomissing.
According to witnesses at the scene, the derailment occured about 10:25 a.m. Sunday. The accident littered Penn Avenue with downed traffic lights, broken poles, coal, dirt, wires and telephone guy wires.
According to Spring Township Police, who have juristiction over the tracks, the derailment and fallen power lines caused brief blackouts at the Berkshire Mall, Hofmann Industries and various residences west of the derailment scene at Penn and Clayton Avenues.
The West Lawn Fire Co. notified Spring Township and Wyomissing Police of the crash. Fire police remained at the scene to offer protection until Conrail Security took over about 6:30p.m.
Police surmise the derailment occurred when something triggered an emergency stop on the derailed cars, locking their brakes.
Ironically, another train derailment happened on the same stretch of track just two months ago in April of 2019. This one was carrying trash and took a few weeks to fully clean up.
Join the discussion on our forum about these derailments by clicking here