Wertz's Red Covered Bridge is one of only 5 original covered bridge structures left standing in Berks County. At one time there were quite a few over the Tulpehocken Creek in various locations along its span, including one slightly upstream near the old Paper Mill. Wertz's Covered Bridge was built in 1867 and spans an impressive 204 feet across the Tulpehocken Creek which makes it the longest single-span covered bridge in the state of Pennsylvania.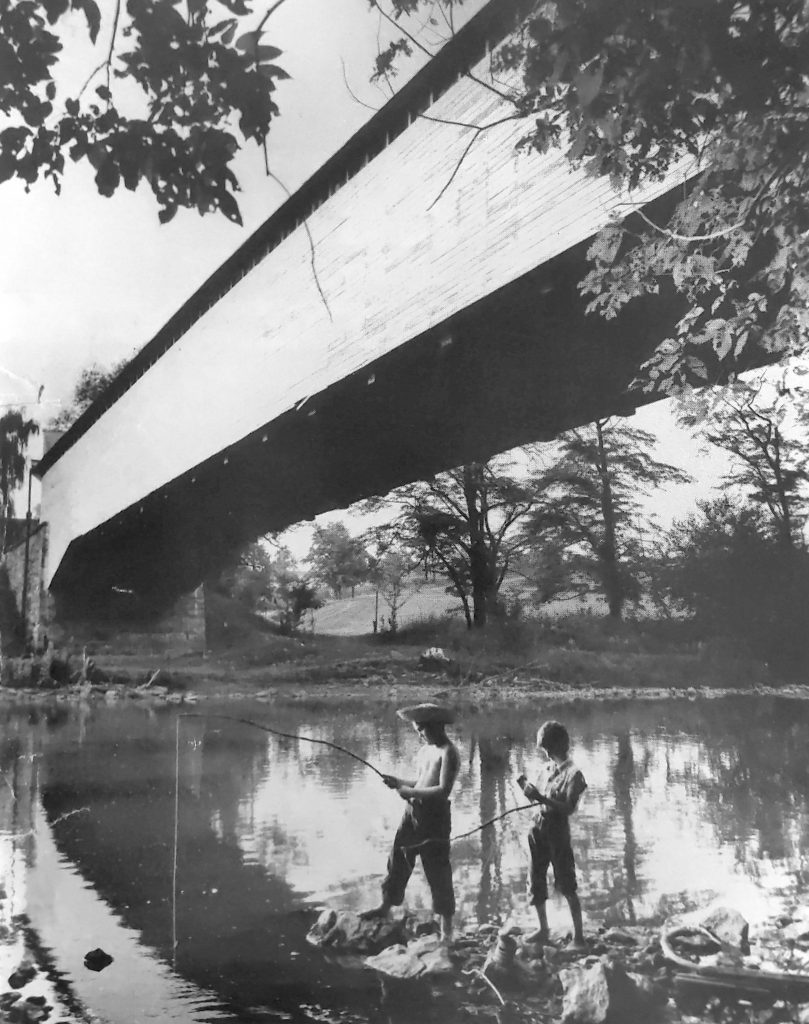 In the photo above you can see the rolling hill in the background where the Gruber Wagon Works would eventually be moved to escape destruction when the Army Corps of Engineers were constructing Blue Marsh Dam.
Wertz's Red Bridge was in disrepair and desperately needed renovations by the late 1950s to continue to accommodate automobile traffic. It underwent some repairs beginning in April 1959 and reopened August 1st, 1959, two days before the Warren Street Bypass was scheduled to close for construction. When the Warren Street Bypass reopened in October of 1959 the covered bridge was closed permanently to motor vehicles.
The County Commissioners at the time actually anticipated that the bridge would be taken down due to extensive structural problems that were exacerbated by an accident that occurred on it earlier in the year and increased traffic through the bridge during the time the Warren Street Bypass was closed. Thankfully this did not occur.
It was listed on the National Register of Historic Places on November of 1978. The bridge underwent restoration between June and December 1984. The siding was replaced, several floor boards were replaced, it was jacked up, realigned, tightened, camber restored, and the rotted arch ends were replaced along with cedar roof shingles.
Today, the bridge is a part of the Berks Heritage Center site along with other historical structures and is a must-visit for any Berks Countian or visitor to the area. It encompasses a rich history of what life was like for those who lived in the rural areas of Berks County in the 1800's and early 1900's. It includes a recreation area as well as a walking and biking trail that extends from Blue Marsh all the way past Gring's Mill and into the City of Reading.
Source: co.berks.us, wikipedia, Reading Eagle