Foreward
As usual, subject matter seems to find me. I was searching for information on Green Hills Theater; a popular destination on Route 10 to see theatrical performances in the mid-20th century. Look for that article sometime in the future. However, during the course of research, I found the curious case of Joseph John Wiater, a very tenacious boy turned convict from Reading. His story was too interesting not to share.
During this research I also discovered that Green Hills Lake was a popular summertime destination for those looking to escape the city in the 1920s and 30s. Despite living three miles away, I didn't know it was still tucked back off of Route 10. The area surrounding the lake has since been developed, but it still exists and is owned by Green Hills Lake Recreation Association.
---
Joseph John Wiater was born in Reading on February 26th, 1921, the youngest child to chiropractors Joseph and Anna Wiater. They resided at 410 Walnut Street and later moved to 121 North 4th Street. He was the youngest of their five children.
Joe-John first made headlines in July of 1928 at only seven years old when he, unbeknownst to his parents, made the roughly 9 mile trek from his home in Reading to the Indiandale Boy Scout Camp in Vinemont. He made the journey on his scooter because he missed his older brother who was attending the camp. Nearly at his destination, a vehicle ran him down and destroyed his scooter. He was unhurt and managed to walk the rest of the journey. This story ran in papers as far away as Harrisburg.
Only two years later in the summer of 1930 nine year old Joe-John spent over a month camping with only his beloved dog at Green Hills Lake. An August 19th, 1930 Reading Times article chronicles his adventures, stating,
"Last Thursday, when Joe-John had been roughing it for 28 days, visited by his parents as the refueling crew only every other day or so, he got an awful toothache. And the only thing for it was a trip to the dentist. So Joe-John stopped his daily paddling and swimming and came back to sleep under a real roof."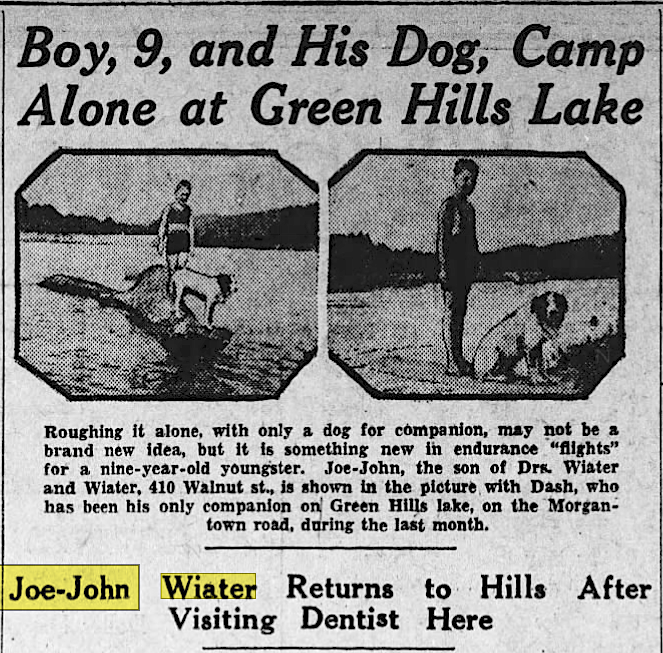 His tooth was extracted and two days later he begged his parents to allow him and his dog return to the lake until school started. Which they did, of course.
Tragically, only a year later in August of 1931, Dash gave his life saving Joe-John's. When Joe -John attempted to cross 4th and Walnut near his home he didn't see a vehicle making a turn in front of him. The dog allegedly threw himself into the way of the vehicle to stop the boy from taking the step into it himself. As Joseph John Wiater made his way toward man-hood, his mental health deteriorated and he became involved in criminal activity.
Teenage Trouble
He managed to stay out of the newspapers until June 1937 when he was arrested for carrying concealed deadly weapons and conspiracy. According to the front page June 26th, 1937 Reading Times article,
"Determined, according to police, to shoot and steal his way through America in order to restore his family's fortune, a 16-year-old son of a prominent professional man was arrested last night by two detectives who said he attempted to pull a revolver."
He was arrested with his 15 year old companion. The whole thing was a set-up, as the companion was afraid and had ratted him out beforehand. According to the Lieut. Detective that questioned him, Wiater told him the plan was to hold up a Penn Street theatre, take the money, and "shoot to kill if necessary".
Joseph's father, a well-respected local chiropractor, managed to get him out of that pickle with a suspended sentence by pleading with the judge for leniency. It was reported in a December 22nd, 1938 Reading Times article that the boy was diagnosed with a psychopathic personality disorder and was receiving treatment well before this incident.
Joseph again got himself into trouble in 1938; perhaps triggered by an incident where he was suspended from Reading High School the morning of December 20th for arguing with a teacher. At 10:30 that evening he met three musician mates under the guise that he had a gig for them to play. He held them up in Hampton Heights and stole the one boy's vehicle. The group ran to the nearest house and phoned police. It was the beginning of a two day manhunt for Joseph.

The automobile was found the next day on Pricetown Road, only two miles from where he stole it. Joseph was found the day after that in Myerstown. Police Chief Leon Groff recognized him as he was about to apprehend him for hitch-hiking. In addition to the charges he now faced, he would now be charged with the concealed weapon and conspiracy charge from 1937 as well. Waiter was forbidden from having firearms after his 1937 incident, but it was determined that he got the one he used to steal the car from another boy's locker at Reading High School.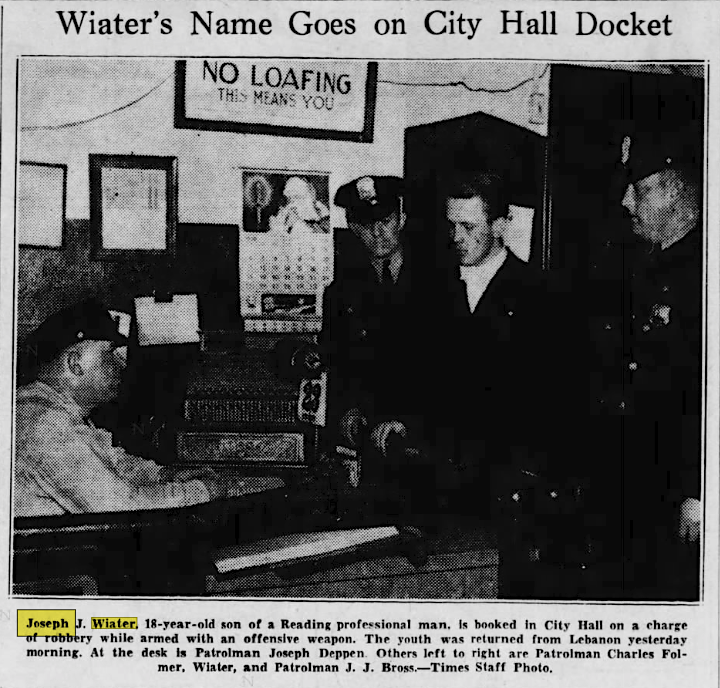 Ultimately, Waiter was sentenced and sent to Huntington Reformatory that January. He was there for less than two years. His WWII draft card is dated February 1942. On September 1st, 1942 a marriage certificate from Alexandria, Virginia indicated that Joseph Wiater married a Mildred Querry of 128 S. 4th Street. Her place of birth was coincidentally Huntington, PA.
Joe and Mildred moved back into his parent's home and he began earning a living by taxi cab driving. He ran into tragedy again on November 22nd, 1942 when he struck and killed a man on Lancaster Avenue while driving his cab. It was determined to be an accident and charges were never filed.
After that incident Joseph falls off the map. Which hopefully means he was stabilized with treatment and lived a relatively normal rest of his life. He and Mildred eventually moved to California. His obituary published on February 18th, 1988 in the Los Angeles Times confirmed his struggle with mental health was life-long, noting; "In lieu of flowers, contributions may be made to the Psychiatric Institute of U.C.L.A."
Mental health is not a new issue, but it is a pervasive one.