The Farmers-Kissinger Market sat on the 800 block of Penn Street, taking up the entire block to Cherry St in Reading. It was opened around Memorial day of 1871. In 1930, they opened a law suit against the city of Reading, due to a dispute about the market building a driveway across the sidewalk of their property on the Penn Street side. According to a November 14th, 1930 Reading Times article,
820 – 834 Penn st. This driveway leads to the company's Marlboro garage. Charles K. Dick, president of the company, said that the work was 75 percent completed and that the remainder of the work could be done in 24 hours. More than $8,500 has been spent on the work so far and to restore the pavement to its former state would cost $5,000, he said. The city granted the company a permit to build the driveway and after it was partly completed revoked the permit, according to Dick. The city claims that traffic in the area is too heavy and pedestrians would be endangered if automobiles., were allowed to drive across the sidewalk. Judge Mays also heard testimony yesterday in the equity suit brought by William Y. Fox, Reading merchant, against Earl G. Garman, in which Fox asks the' court to set aside a real estate transaction. Fox claims he exchanged his properties for a home on Perkiomen avenue owned by Garman without having sufficient time to think about the transaction.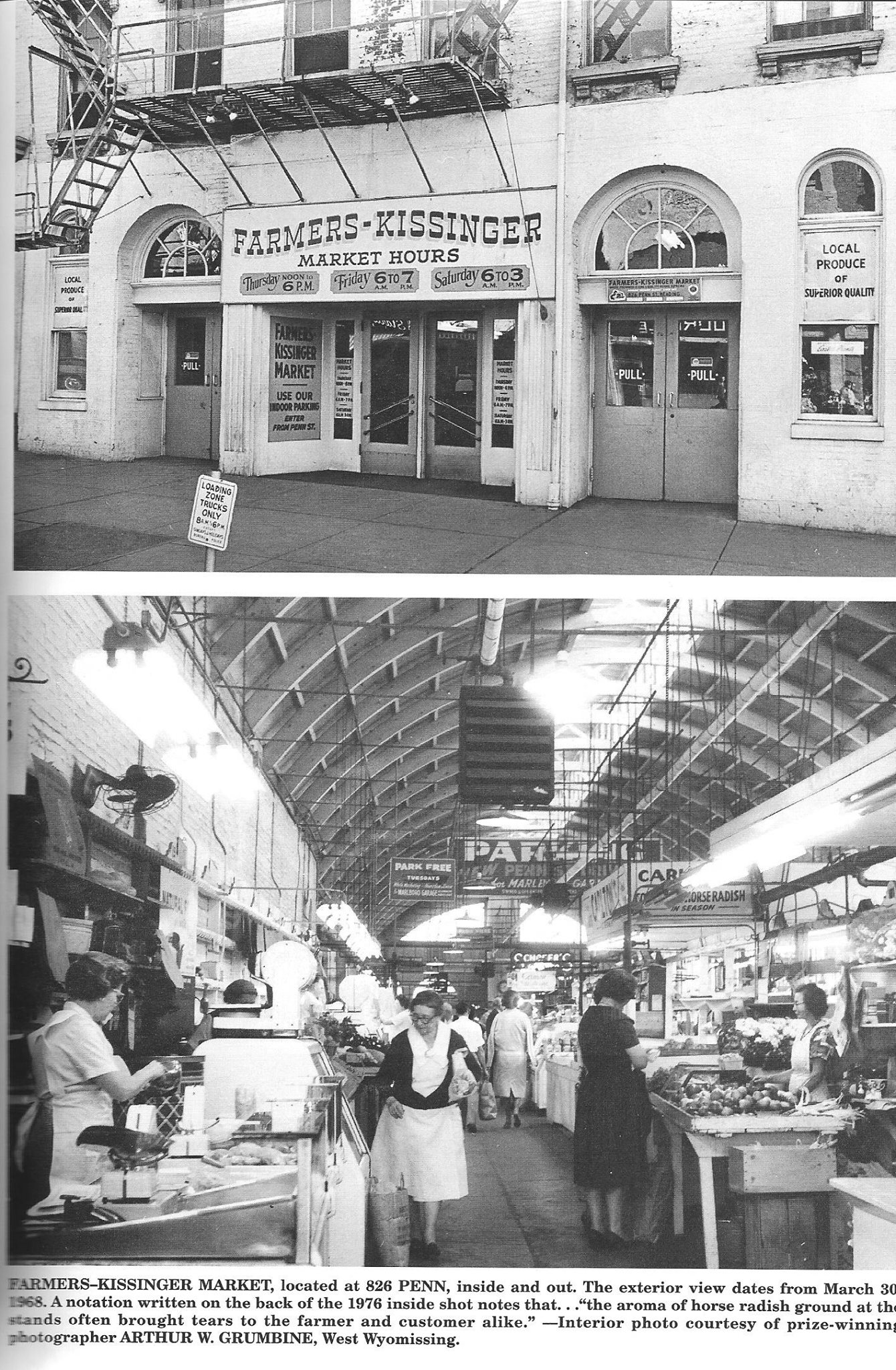 "Farmers-Kissinger Market, located at 826 Penn St, inside and out. The exterior view dates from March 30th, 1968. A Notation written on the back of the 1976 inside shot notes that…"the aroma of horse radish ground at the stands often brought tears to the farmer and customer alike." – Interior photo courtesy of prize-winning photographer Arther W. Grumbine, West Wyomissing."
I can find no hard evidence of when the market was closed, but I can only assume until sometime in the late 70s or early 80s, in which it probably became victim to the urban renewal, and was razed.