The last time Easter Sunday fell on April 21st was 1957. Here is a look at that day's Reading Eagle.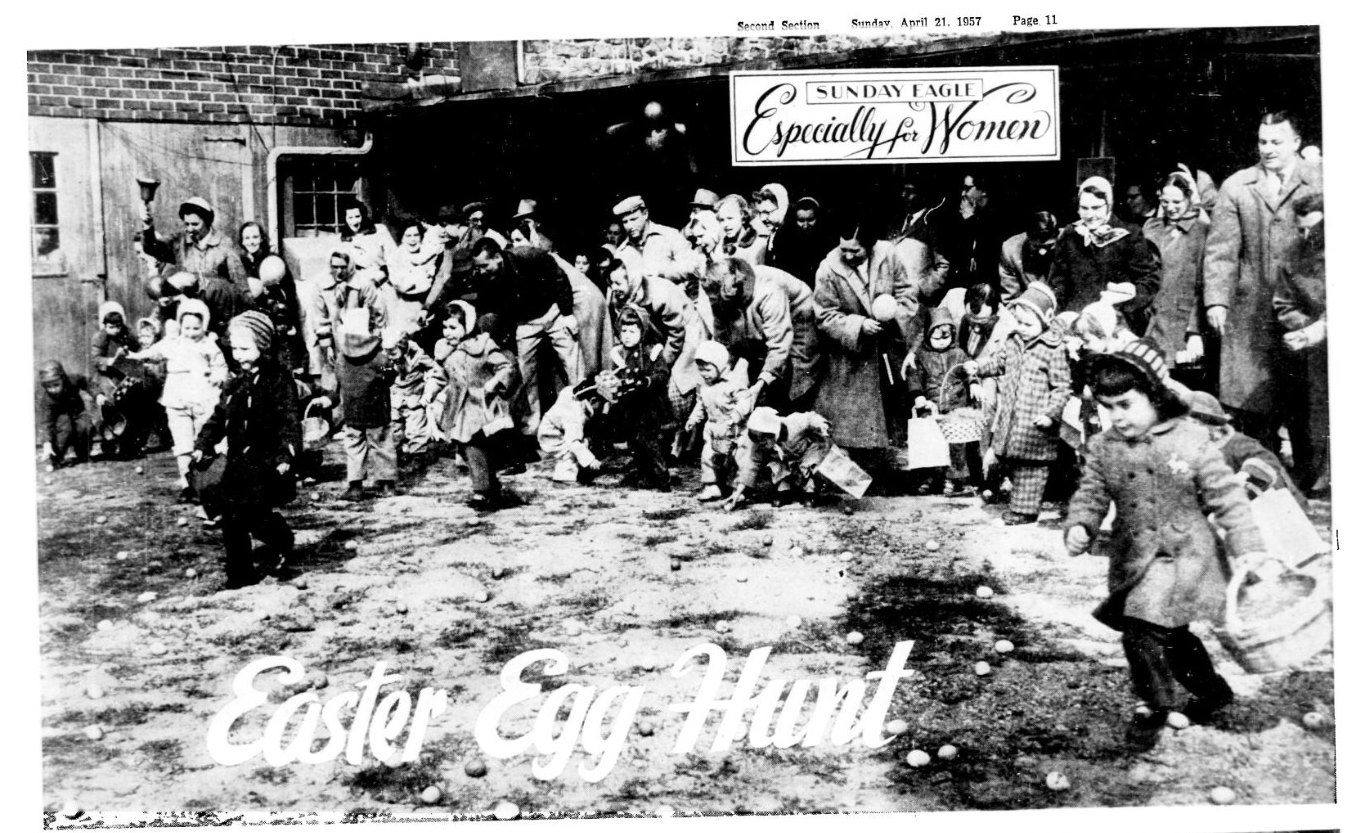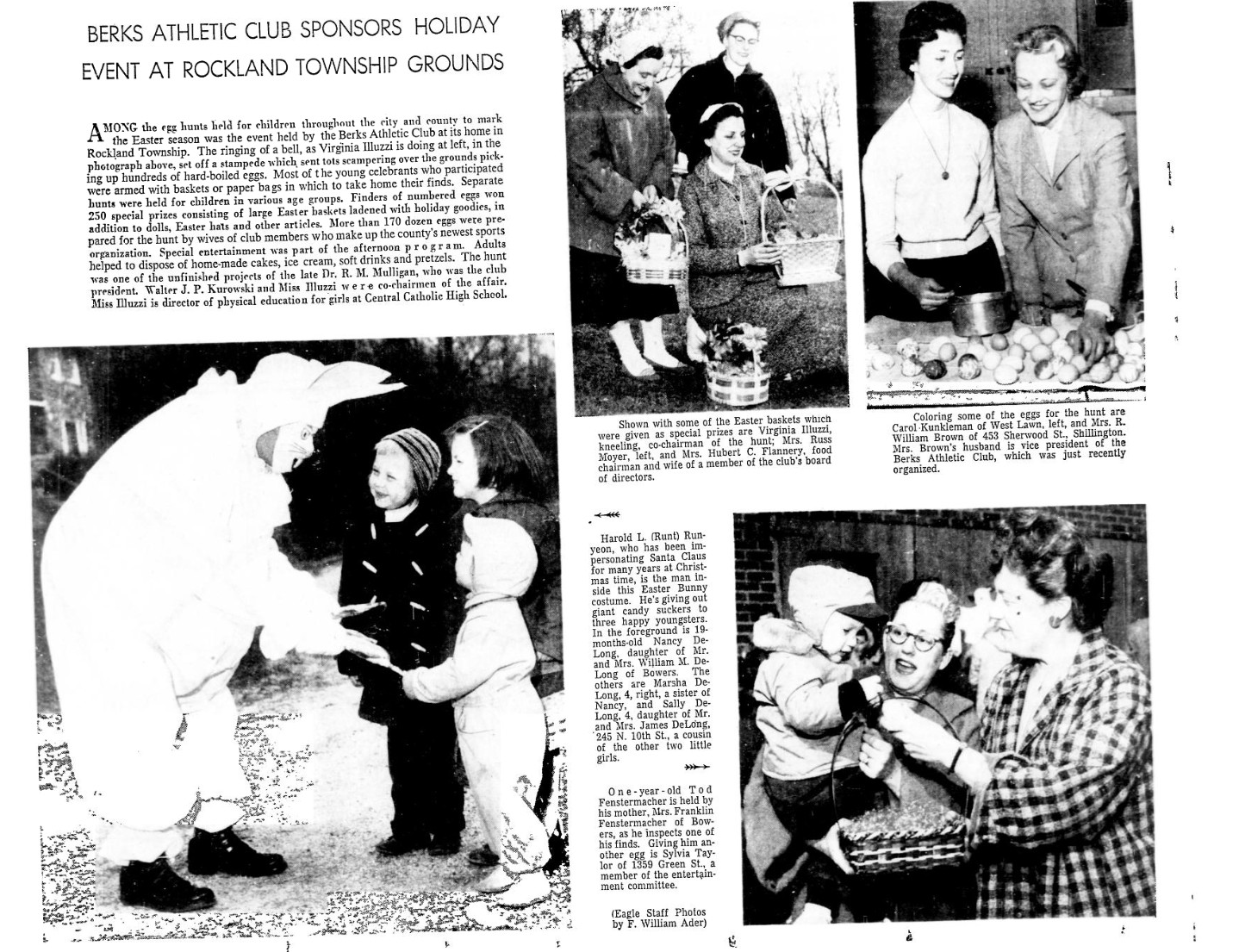 Among the egg hunts held for children throughout the city and county to mark the Easter season was the event held by the Berks Athletic Club at it's home in Rockland Township. The ringing of a bell, as Virginia Illuzzi os doing at left, in the photograph above, set off a stampede which, sent tots scampering over the grounds picking up hundreds of hard-boiled eggs. Most of the young celebrants who participated were armed with baskets or paper bags in which to take home their finds. Separate hunts were geld for children in various age groups. Finders numbered eggs won 250 special prizes consisting of large Easter baskets ladened with holiday goodies, in addition to dolls, Easter gats and other articles. More than 170 dozen eggs were prepared for the hunt by wives of club members who make up the country's newest sports organization. Special entertainment was part of the afternoon program. Adults helped to dispose of homemade cakes, ice cream, soft drinks and pretzels. The hunt was one of the unfinished projects of the late Dr. R. M. Mulligan, who was the club president. Walter J. P. Kurowski and Miss Illuzzi were co-chairmen of the affair. Miss Illuzzi is the director of physical education for girls at Central Catholic High School. – Reading Eagle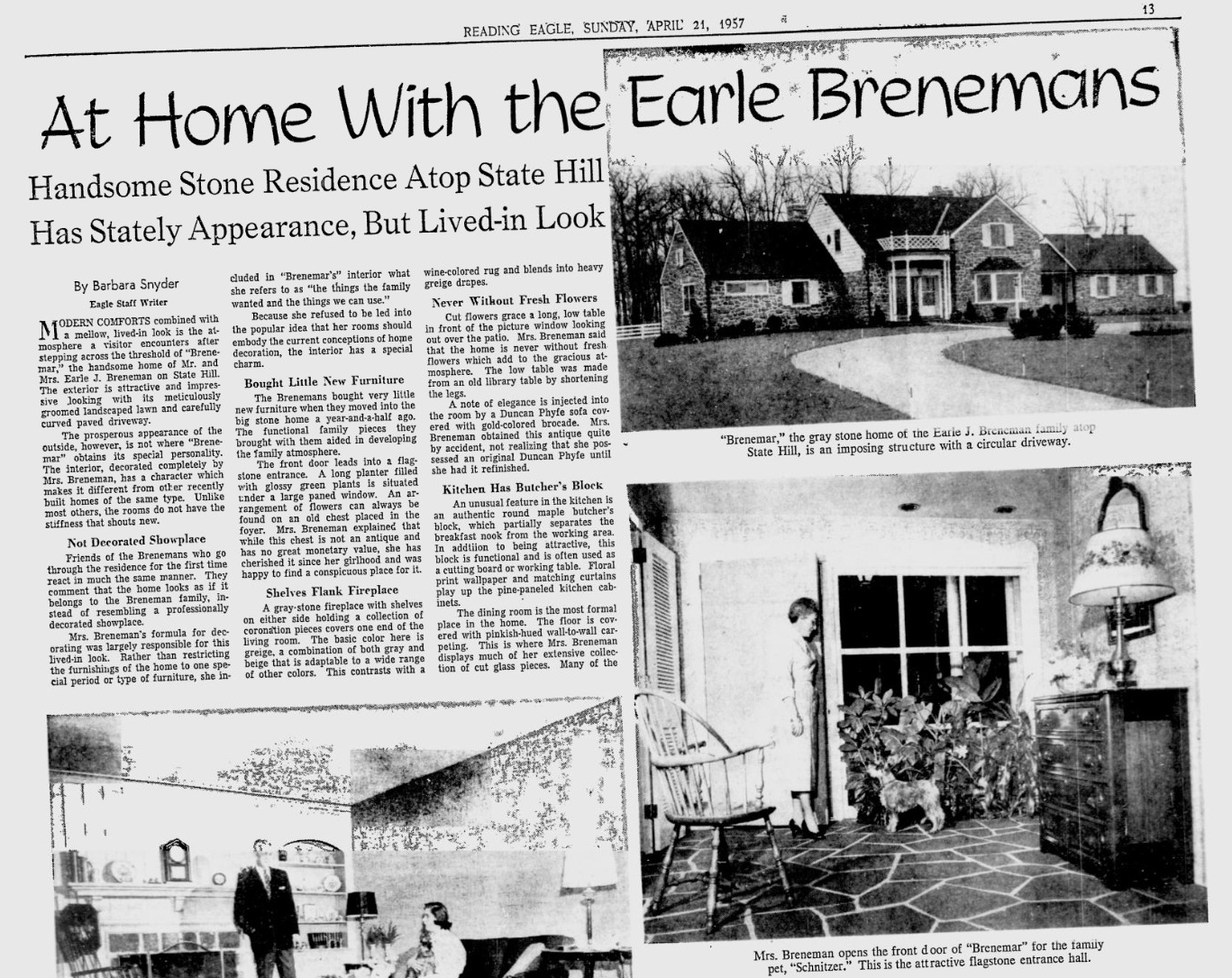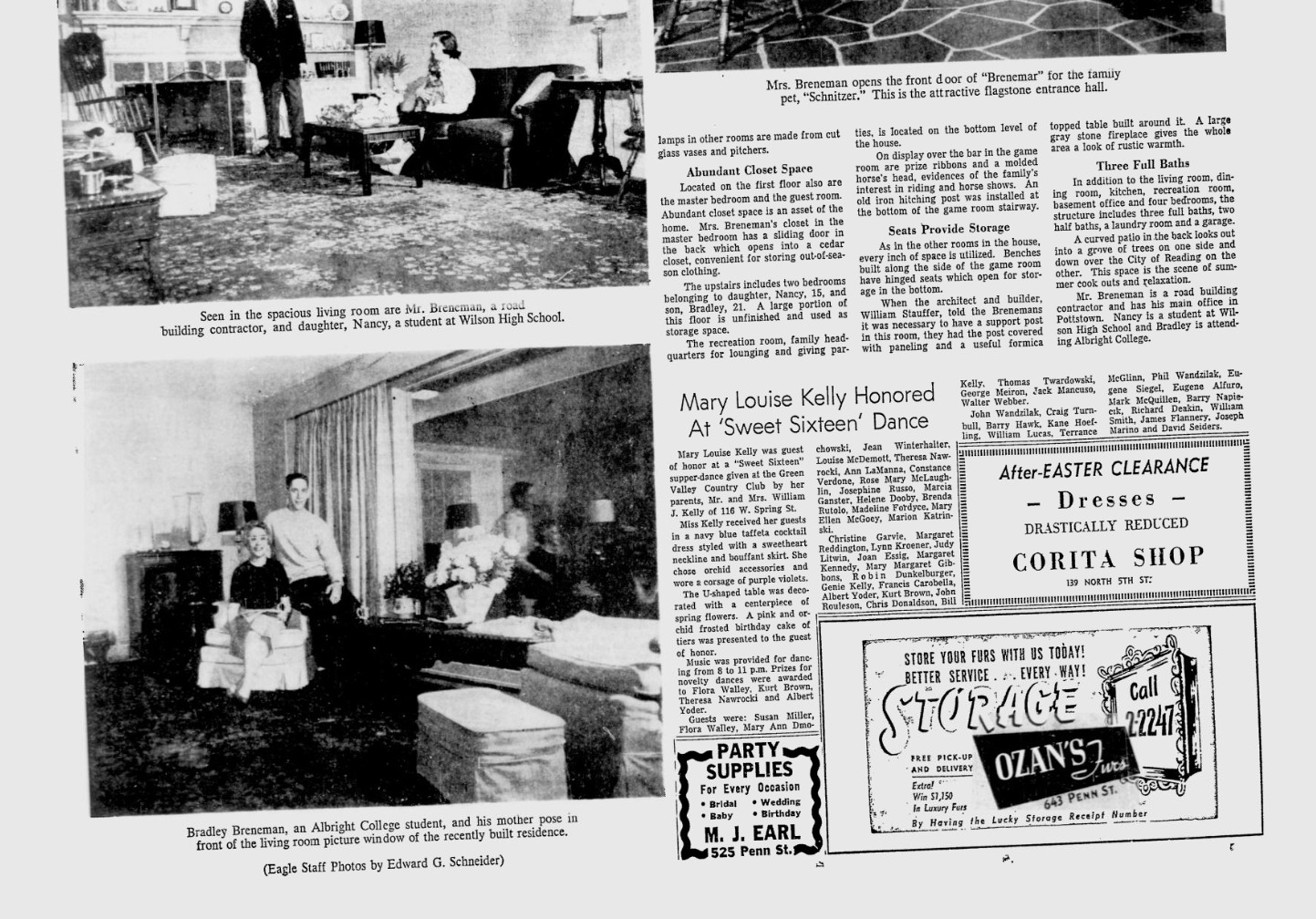 Modern comforts combined with a mellow, lived-in look is the atmosphere a visitor encounters after stepping across the threshold of "Brenemar", the handsome home of Mr. and Mrs. Earle J. Breneman on State Hill. The exterior is attractive and impressive looking with it's meticulously groomed landscaped lawn and carefully curved paved driveway.
Friends of the Breneman's who go through the residence for the first time react in much the same manor. They comment that the home looks as if it belongs to the Breneman family, instead resembling a professionally decorated showplace. Mrs. Breneman's formula for decorating was largely responsible for this lived-in look. Rather than restricting the furnishings of the home to one special period or type of furniture, she included in "Brenemar's" interior what she refers to as "the things the family wanted and the things we can use." … -Babara Snyder
Click on the images above to read the full article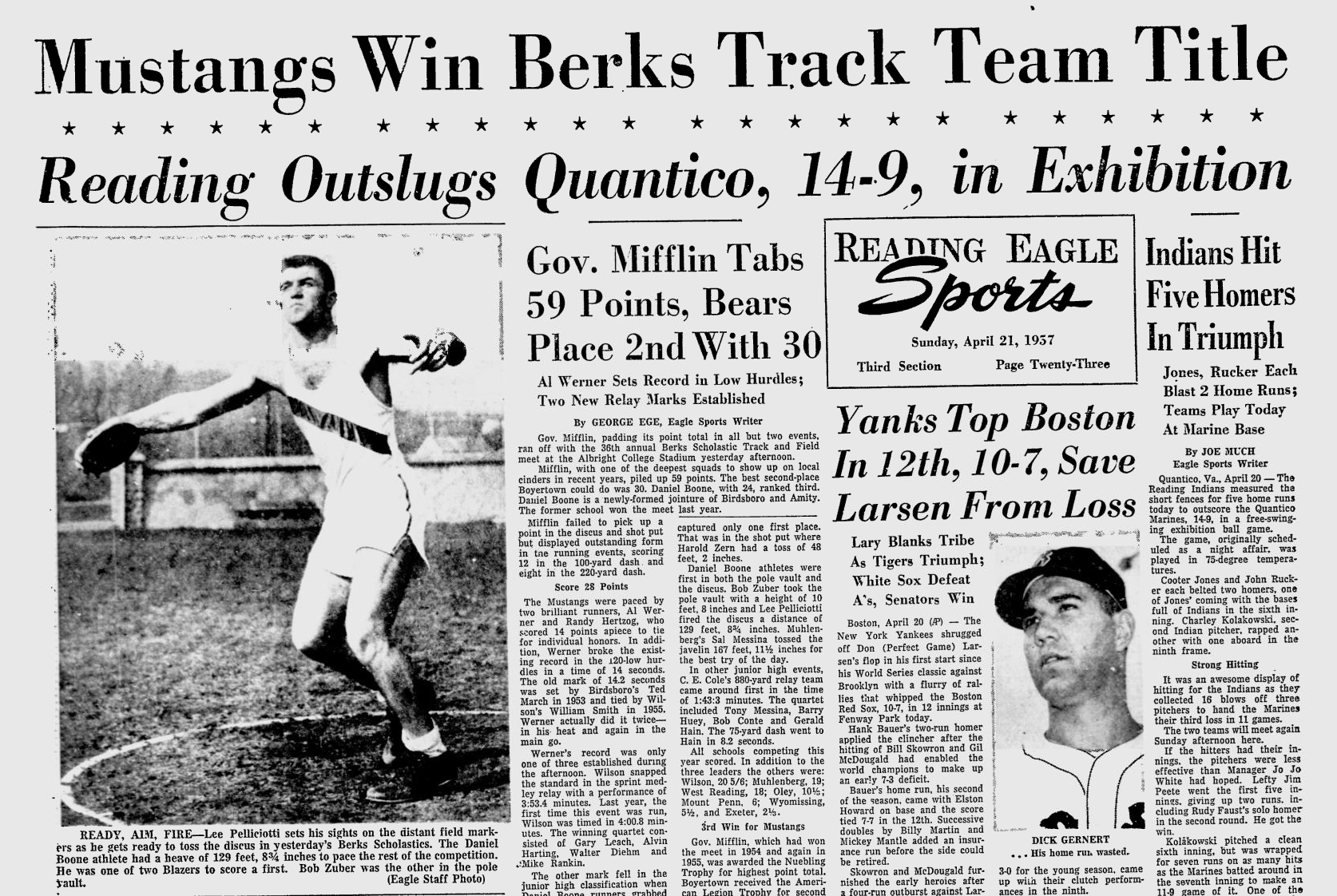 Pictured Left: Lee Pelliciotti sets his sights on the distant field markers as he gets ready to toss the discus in yesterday's Berks Scholastics. The Daniel Boone athlete had a heave of 129 ft, 8¾ inches to pace the rest of the competition. He was one of two blazers to score a first. Bob Zuber was the other in the pole vault. (Eagle Staff Photo)