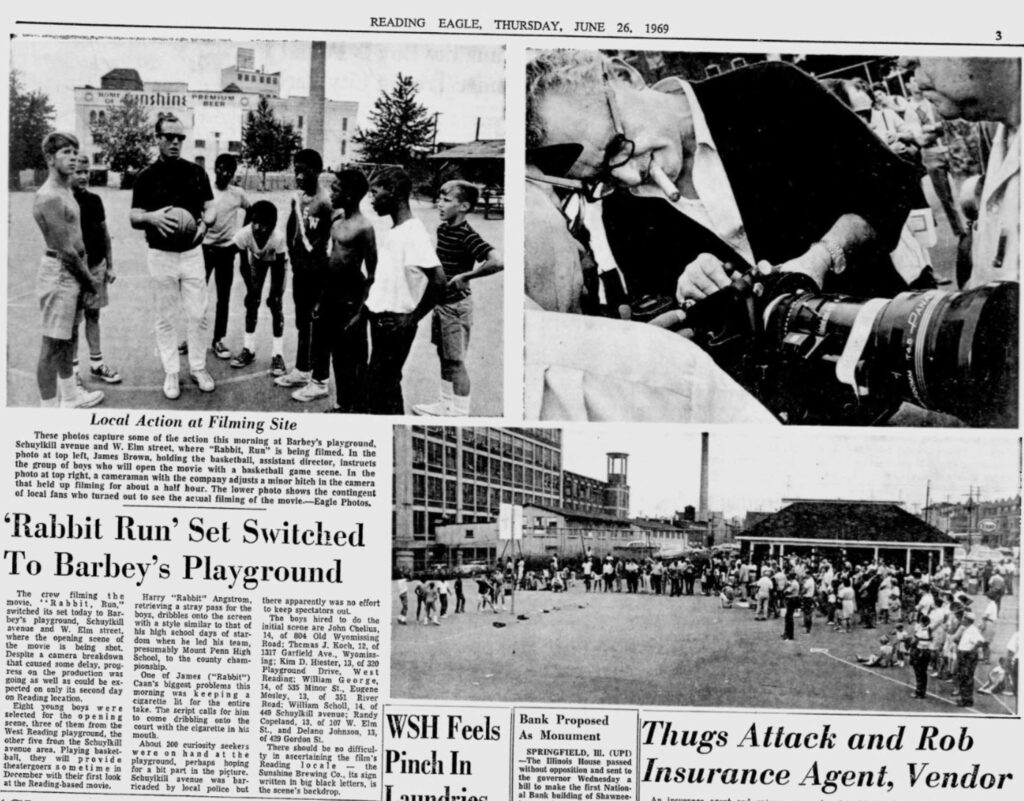 These photos capture some of the action this morning at Barbey's playground, Schuykill avenue and W. Elm Street, where "Rabbit, Run" is being filmed. In the photo at top right a cameraman with the company adjusts a minor hitch in the camera that held up filming for about a half hour. The lower photo shows the contingent of local fans who turned out to see the actual filming of the movie. – Eagle Photos
On this day in 1969 the opening scene of the movie, Rabbit, Run was shot at Barbey's playground. The scene depicts Harry "Rabbit" Angstrom, who might be considered both the movie's pro and antagonist, playing basketball with a bunch of local kids. The area is barely recognizable from the scene, as it has changed extensively since filming, mainly due to flooding from Hurricane Agnes and redevelopment of the area. Even the playground itself has been renovated since filming.
The entire movie was filmed in and around Reading. Harry Angstrom's home, which he came and left fairly frequently in the film was 558 South 15th Street. The home sold relatively recently in 2019, and as you can see from the listing photos, the interior of the home was not used as the set for the interior of his family apartment.
After running away from his wife in the film, Harry visits his old basketball coach for advice. The Coach's residence is depicted as a white building with a sign that says "Sunshine Athletic Club". Sunshine Athletic Association was a location from the book, and I am unsure if it was based in reality. Google yields no results. If you know whether the Sunshine Athletic club existed, or where it was located feel free to drop it in the comments.
Harry and his Coach end up at dinner at a Chinese restaurant with two escorts. The interior of the restaurant must be local because a Sunshine Beer light can be seen illuminated over the bar in the background. The only two Chinese places I know of in Berks at that time were The Canton Restaurant on Penn Street and Far East Chinese, which had left its long-time location at Penn Street in Reading three years prior to filming and settled on Lancaster Pike outside of Shillington.
In a later scene, Harry plays golf with a Pastor at Berkshire Country Club. A scene at a public pool was shot at East Reading Pool.
The last scene of the movie, a funeral takes place at Saint Peter the Apostle Cemetery, with a perfect view of the Reading skyline in the background.