This one is near and dear to my own heart, as I grew up going to KidSports. It was located along Penn Avenue, connected to the old Boscov's West Department Store building. Before Kid Sports, it was an Acme and/or IGA Grocery store for many decades.
According to this Washington Post article, KidSports was the 1987 brainchild of local Gary Seibert, who wanted to create a place for kids to combat (the even then growing) childhood obesity epidemic.
He saw study after study that showed they were out of shape and unhappy — too easily lured by drugs and alcohol.

What America needed, he reasoned, was something that children would like, something that would help them make friends and believe in themselves.
He had lofty goals, to create what he wanted to be the "McDonalds of the kids' fun and fitness business", wanting to sell between 400 and 500 licenses around the country to operate under the KidSports namesake.
KidSports boasted a large indoor obstacle course, which kids could get lost in for hours, with a food area nearby to get a bite to eat after. It also had an indoor area to play sports, along with many rooms for smaller gaming activities. If I remember correctly, there was also a gym that adults could use if they purchased a membership.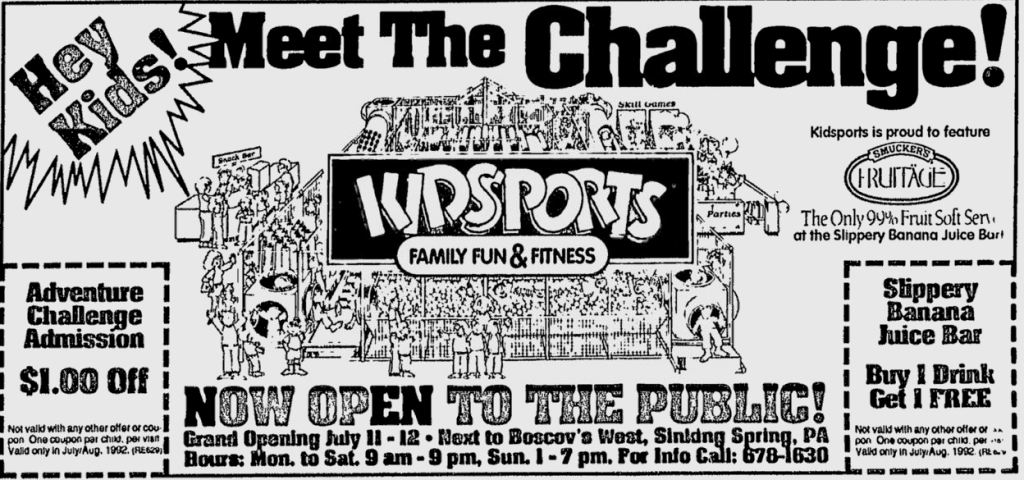 His dream ultimately became reality in July of 1992, when the first KidSports on Penn Avenue opened to the public (Edit: apparently it was originally located just up Penn Ave toward West Lawn, next to Adelphia Seafood. It also was existing pre-1992 Penn Ave move, but I cannot find a hard date on the previous location's opening) It enjoyed success for the entire 90s into the 2000s, but ultimately merged with the old Family Grand Prix business on Route 61 in Leesport, which then became Ozzy's Family Fun Center.
This old video commercial is the closest I can find to any glimpse inside Kid Sports. If you have any photos, please send them my way! [email protected]
Below is a photo of KidSports after it had closed down, but before it was demolished in 2010 along with the Boscov's West building. In its place another strip mall was built, including a brand new Food Lion Grocery store, which ultimately failed after just 14 months open. It currently still sits vacant 6 years later.
August 2020 EDIT: Happy to announce that a Lidl grocery store just opened in the 8-year vacant Food Lion building.