On this day 30 years ago – September 8th, 1987,  a storm causes major flooding in Berks.
According this Reading Eagle article,
It was a Tuesday, Sept. 8, in 1987 when the deluge came.

It was known as TD Nine. The meandering area of tropical moisture formed near the Bahamas – it never even qualified to have a name – drained its wrath over eastern Pennsylvania, hitting southeastern Berks County particularly hard.

Birdsboro was ground zero for this major flooding of 30 years ago from the Hay Creek. The borough was crippled with homes flooded, bridges out, ruptured water mains and shattered pavements. The situation there was critical for days, the residents boiled water for weeks and the cleanup went on for months. The damage was pegged at $5 million to roads and other public property in and near the borough.

According to newspaper reports at the time: In Robeson Township, bridges over Hay Creek at White Bear Road, Furnace Road and Moyer Road were rendered impassible. Monocacy Hill Road between Route 422 and Limekiln Road in Amity Township was impassible for days. Ditto for Shelbourne Road in Exeter Township. As the waters receded, tales of trapped motorists and heroic rescues also emerged. Reports indicated that six motorists in Berks had been rescued from cars or trees after being trapped in rising floodwaters. In Kutztown, Kutztown Foundry was on minimal operations for a few days because of the heavy load it placed on power sources.

Saucony Creek, which runs through the borough, was nearly 7 feet above normal, with flooding. Other areas left reeling were the Colebrookdale Landfill, Earl Township, where 6,000 to 8,000 gallons of leachate spilled into Furnace Creek after a holding tank ruptured, and the FR&S Sanitary Landfill Inc., Exeter Township, where the backwash caused a foul-smelling liquid to spill into the Schuylkill River at a 100-gallon-per-minute clip.

The Schuylkill River at the Penn Street Bridge rose 7 feet in 24 hours. Eventually Berks, Carbon, Lancaster, Lehigh and Northampton counties were declared disaster areas. The UGI Gas Distribution Center in Ontelaunee Township was the official National Weather Service station in Berks.

The station recorded 6.25 inches on Sept. 8, 1987. That 6.25 is the fourth highest daily total in the 148-year Berks County precipitation database behind 6.75 inches, Oct. 8, 2005, tropical moisture; 6.73, Oct. 3, 1869, Saxby Gale; and 6.49, June 23, 1972 Tropical Storm Agnes.Most Berks Area Rainfall Network stations and trained weather service observers recorded 3 to 7 inches on Sept. 8, 1987. These were a few of the even more extreme measurements: Eastern Cumru Township, 13 inches; Gibraltar, 8.7; Elverson, 8.3; Morgantown wastewater treatment plant, 8; and St. Lawrence, 7.35."

The system had plenty of tropical moisture, and this slug of moisture ran the Piedmont zones from Virginia to eastern Pennsylvania, even right over eastern Berks County during the early evening of Tuesday 8 September," said Jeffrey R. Stoudt, Berks weather historian.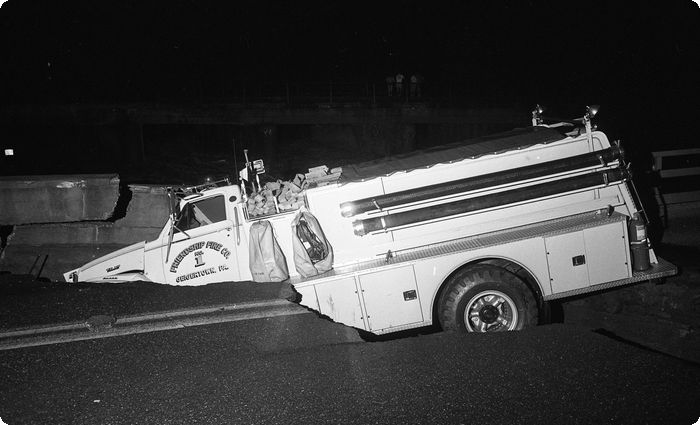 Reading Eagle | A Geigertown Fire Company truck fell into Hay Creek after a section of Route 82 in Birdsboro collapsed during the deluge of tropical moisture on Sept. 8, 1987. Three firefighters escaped without injury.