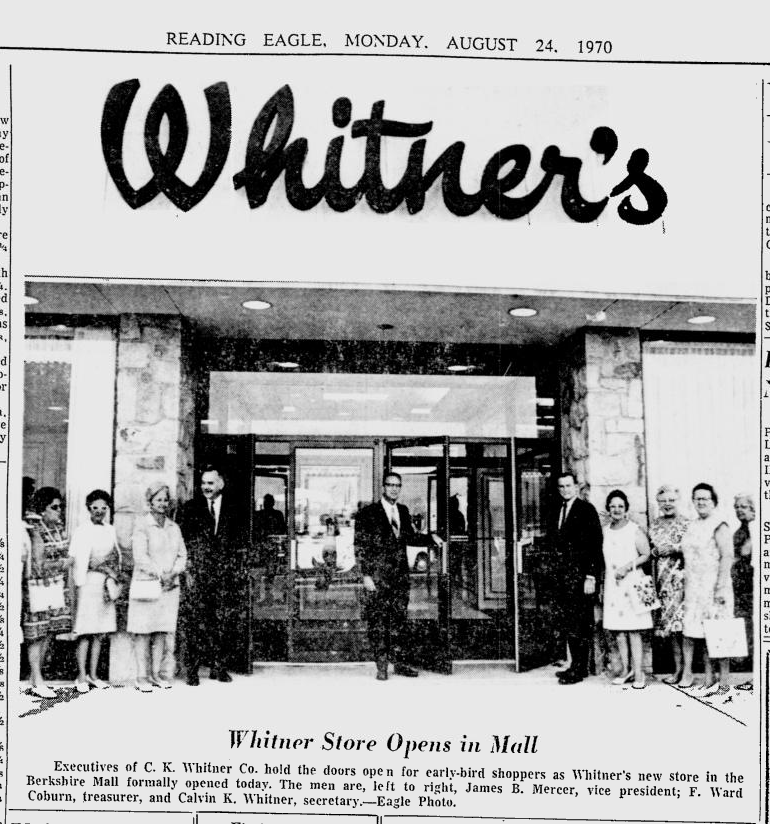 Executives of C.K. Whitner Co. hold the doors open for early-bird shoppers as Whitner's new store in the Berkshire Mall formally opened today. The men are, left to right, James B. Mercer, vice president, F. Ward Coburn, treasurer, and Calvin K. Whitner, secretary.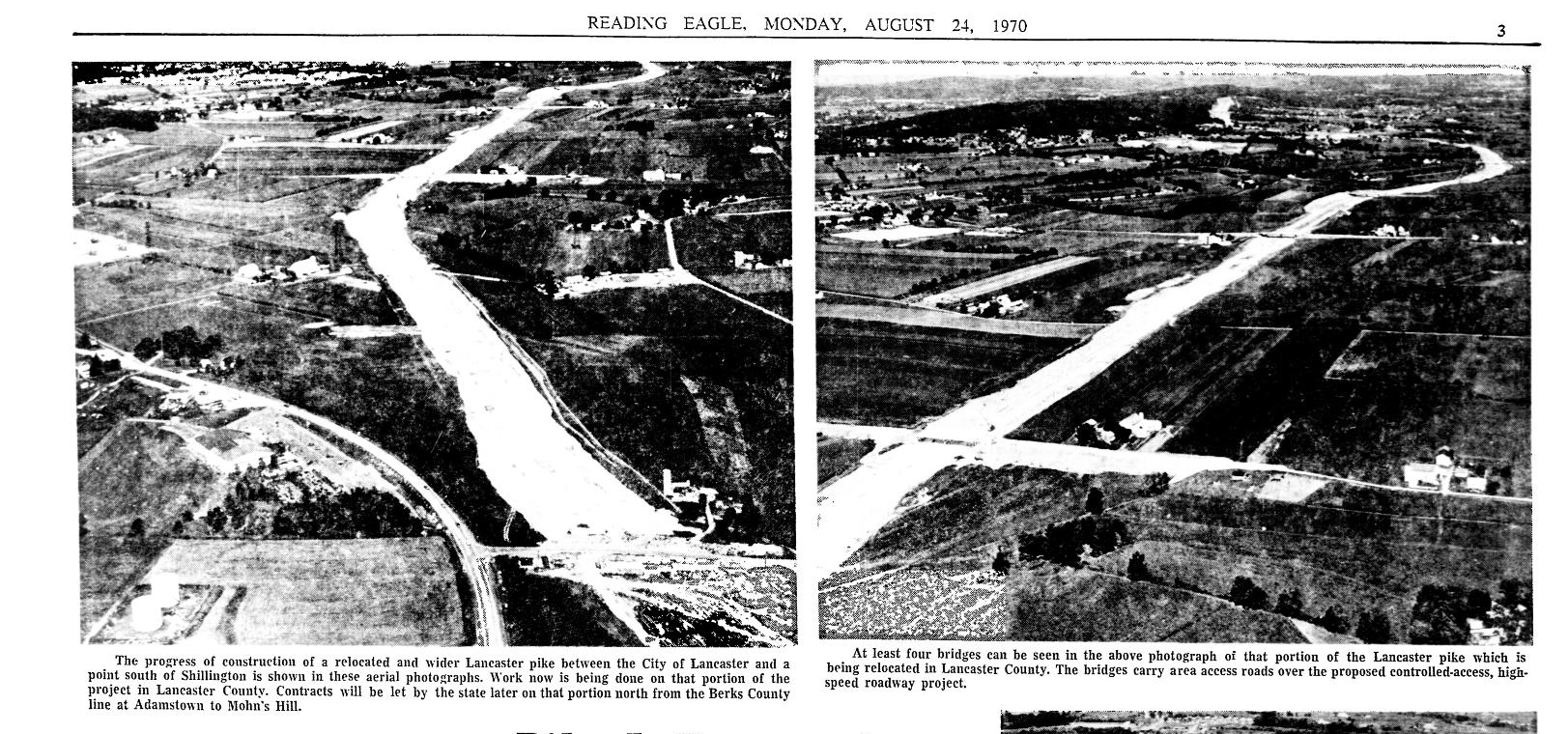 (Left) The progress of contruction of a relocated and wider Lancaster pike between the City of Lancaster and a point south of Shillington is shown in these aerial photographs. Work now is being done on that portion of the project in Lancaster County. Contracts will be let by the state later on that portion north from the Berks County line at Adamstown to Mohn's Hill.

(Right) At least four bridges can be seen in the above photograph of that portion of the Lancaster pike which is being relocated in Lancaster County. The bridges carry area access roads over the proposed controlled-access, high-speed roadway project.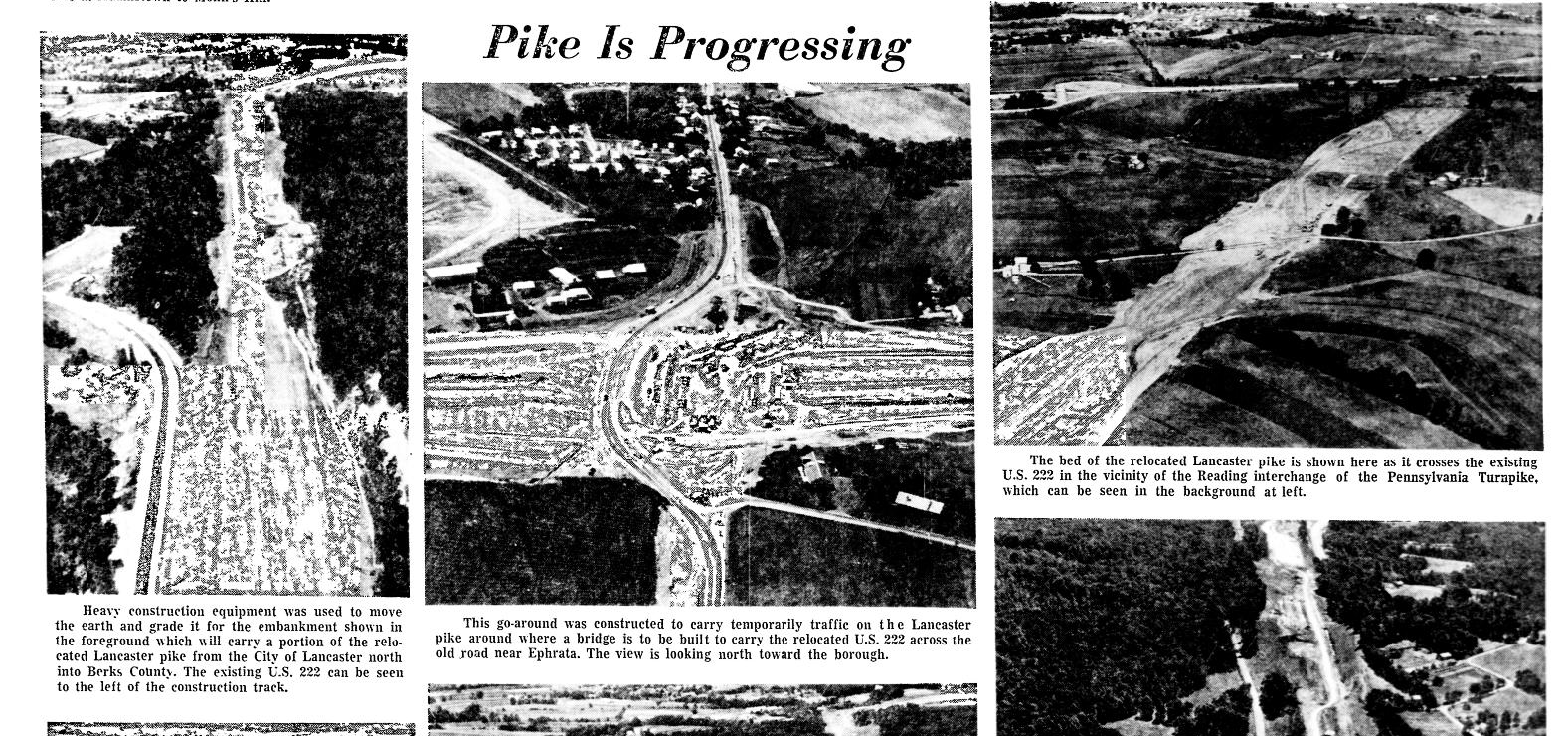 (Left) Heavy construction equipment was used to move the earth and grade it for the embankment shown in the foreground which will carry a portion of the relocated Lancaster pike from the City of Lancaster north into Berks County. The existing U.S. 222 can be seen to the left of the construction mark.

(Middle) This go-around was construction to carry temporarily traffic on the Lancaster pike around where a bridge is being buil to carry the relocated U.S. 222 across the road near Ephrata. The view is looking north toward the borough.

(Right) The bed of the relocated Lancaster pike is shown here as it crossed the existing U.S. 222 in the vicinity of the Reading interchange of the Pennsylvania Turnpike, which can be seen in the background at left.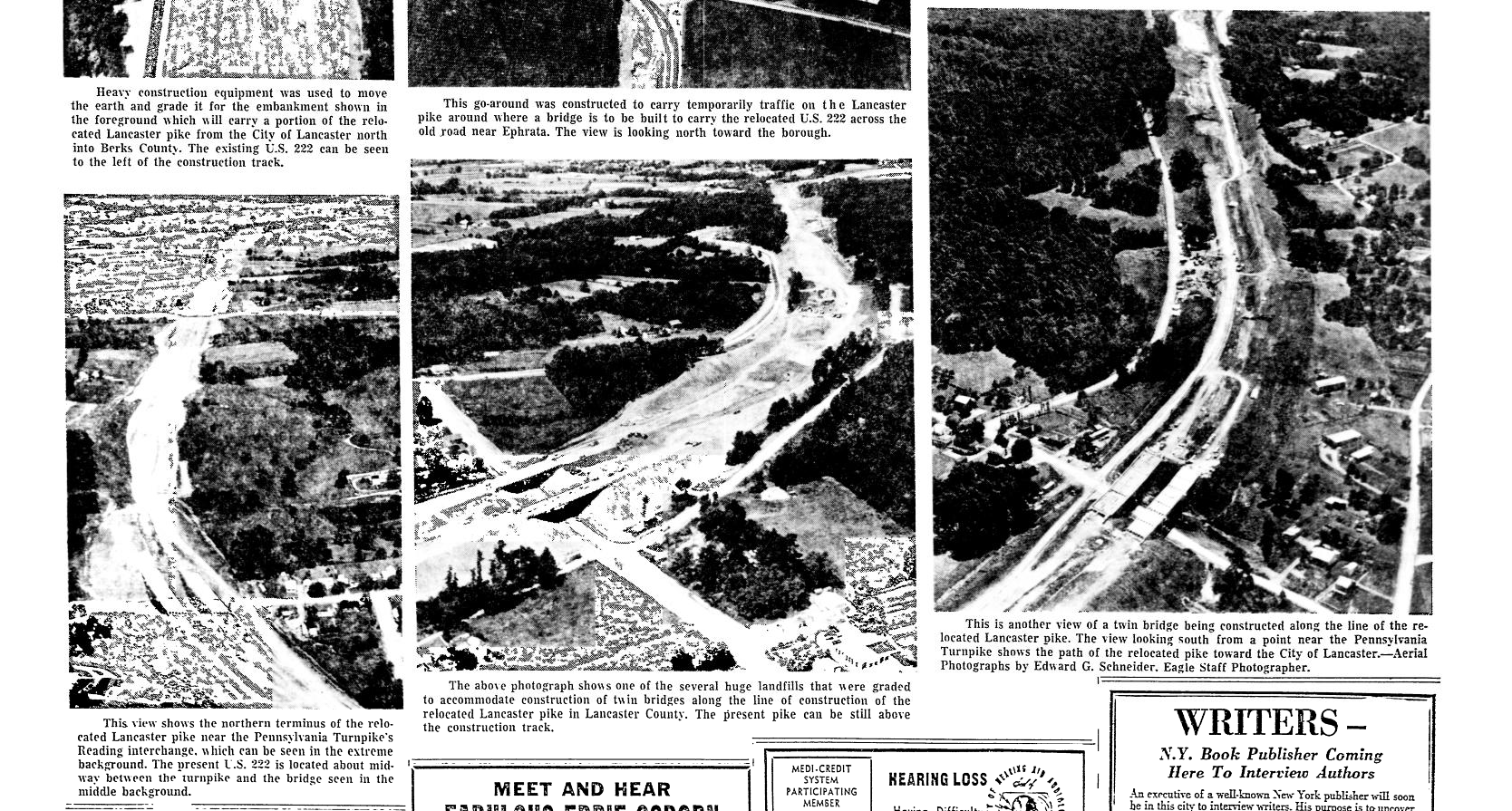 (Left) This view shows the northern terminus of the relocated Lancaster pike near the PA Turnpike's Reading interchange, which can be seen in the extreme background. The present U.S. 222 is located about mid-way between the turnpike and the bridge seen in the middle background.

(Middle) The above photograph shows one of the several huge landfills that were graded to accommodate construction of twin bridges along the line of construction of the relocated Lancaster pike in Lancaster County. The present pike can be still [seen] above the construction track.

(Right) This is another view of a twin bridge being constructed along the line of the relocated Lancaster pike. The view looking south from a point near the Pennsylvania tTurnpike shows the path of the relocated pike toward the city of Lancaster. – Aerial Photographs by Edward G. Schneider