The Comfort Stations at 5th & Penn were essentially public restrooms that included toilets, showers, weight scales, 14 wash bowls with liquid soap, and pay compartments all of which seemed quite luxurious for when it was introduced in February of 1922. The showers and pay compartments cost 25 and 10 cents. Comfort stations became extremely popular amongst those shopping downtown, and generated considerable revenue for the city over the years. As a result the prices of showers were cut to 10 cents.
The very first mention of Reading building comfort stations came in 1919, when the Socialist ticket was chosen at caucus. J. Henry Stump had been chosen to lead the Socialist ticket as mayoral candidate, and one of his political platforms was creating what became Reading's legendary comfort stations on Penn Square. By 1920 various city council candidates also followed suit in supporting this platform. Comfort stations were popping up in prosperous cities all around the region. Much of the basis of budgeting was based on Allentown, who spent $40,000 in 1920 to construct their own.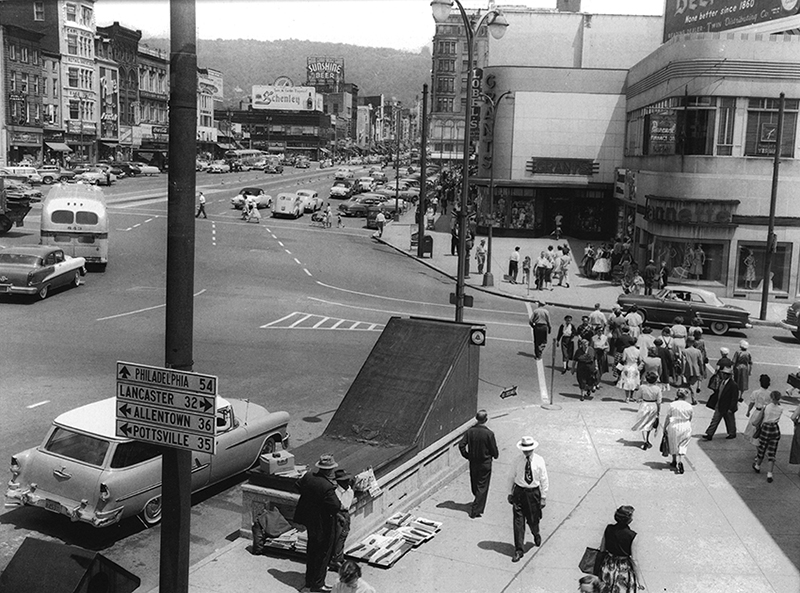 Stump wasn't elected Mayor that term, and wouldn't be until 1927, but his idea caught on. On election day November 2nd, 1920 it was put to a vote amongst the citizens of the city to incur $60,000 in debt for the construction of these stations. The final vote count was 8,846 yes to 7,281 no. As the relatively tight margin shows, it was a controversial topic. After much delay in the form of ordinances, budgets and contracts, Mayor Stauffer finally signed the contract reluctantly, kicking off construction in July of 1921. The whole project took six months, which excavation comprised 20 days of. The main square was cut off to vehicles during much of the construction period, which caused a lot of backlash.
The stations opened officially on February 14th 1922. It made a total of $2.60 on its first day. Attendants were paid by the city to keep them clean and hand out towels. Changes and improvements were made to the comfort station in 1939 under Mayor Stump. These included a modernized ventilation system and new stairways.
These comfort stations eventually became used less and were increasingly the utilized for seedy behavior. In 1977 a kiosk was constructed to cover the entrances, and the city used them only for maintenance purposes. The underground structure was sealed permanently in 1993 when the square was revitalized. The Comfort Stations at 5th & Penn still remain down there, buried in time and memory.