Last summer I wrote an extensive article on Central Catholic High School as a part of a greater "Defunct Schools of Berks" series. It has been a decade since the merger of Central Catholic and Holy Name into Berks Catholic. So it is time to dive into some tangible research to answer a few of the questions and legends about a spirit haunting the halls of the former Luden's Bon Air Mansion. You can read about William H. Luden and a pretty detailed overview of his history here. If you aren't familiar with this information click on the links in this first paragraph to bring yourself up to speed.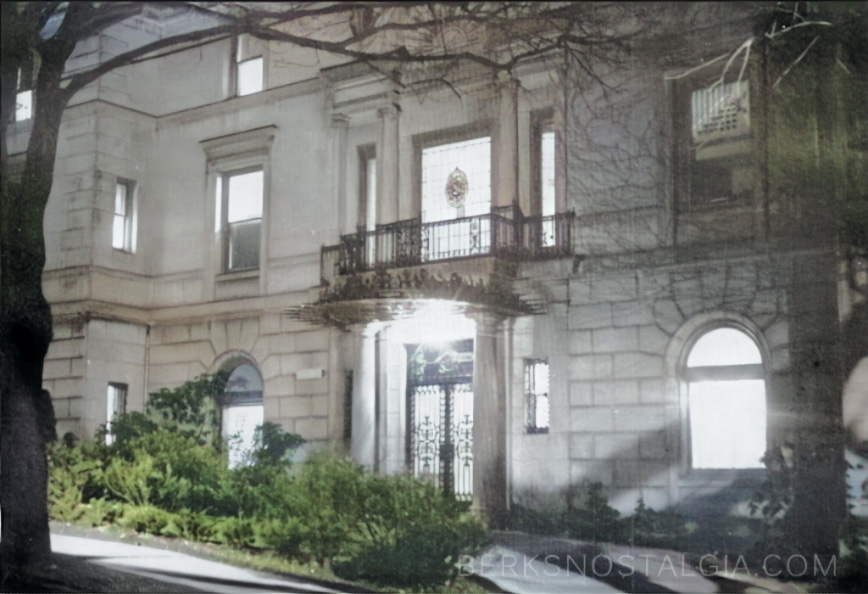 Did William H. Luden's teenage Son really die in the mansion? Did anyone?
In the 1910 census Luden's family is listed at living at 709 North Fifth Street. William and his first wife Annie had eight children together by 1910, four sons and four daughters ranging in age from 19 to 2. The two youngest sons were 10 and 8 years of age in 1910, which would have made them the ages of 22 and 20 by the time the Bon Air mansion was completed. Their names were Frederick and Milford, neither named "Billy" like the urban legend states.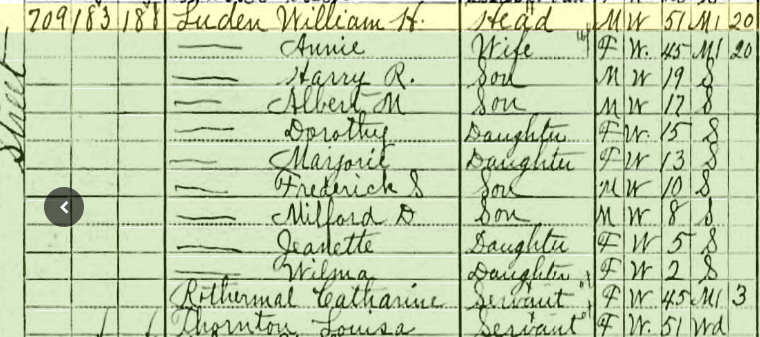 William H. Luden's first wife Annie passed away in 1918, while they were living at the 709 N. Fifth Street property.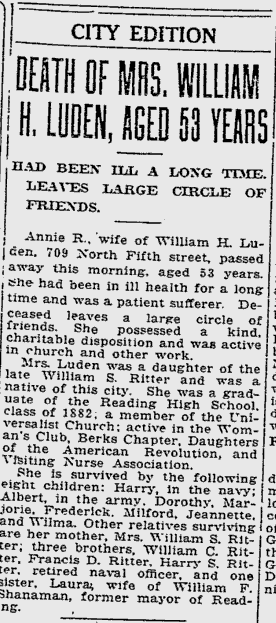 Was Bon Air built in 1914 or 1922?
There was some discrepancy between Central Catholic school documents and local historians on when the mansion was actually completed. School documents listed 1914, but historians like George M. Meiser IX have said 1922.
Using the Berks County Recorder of Deed's website tool, it is possible to find record of deed transfers in Berks back to the 1700s. Luden purchased the first 6 acre piece of land at Hill Road and Clymer on April 1st, 1907 from a William and Ellen Sharp for $40k. In January 27th, 1919 he purchased the final piece of land that would become Bon Air estate from a J. Warren and Anna Klein for $5,250.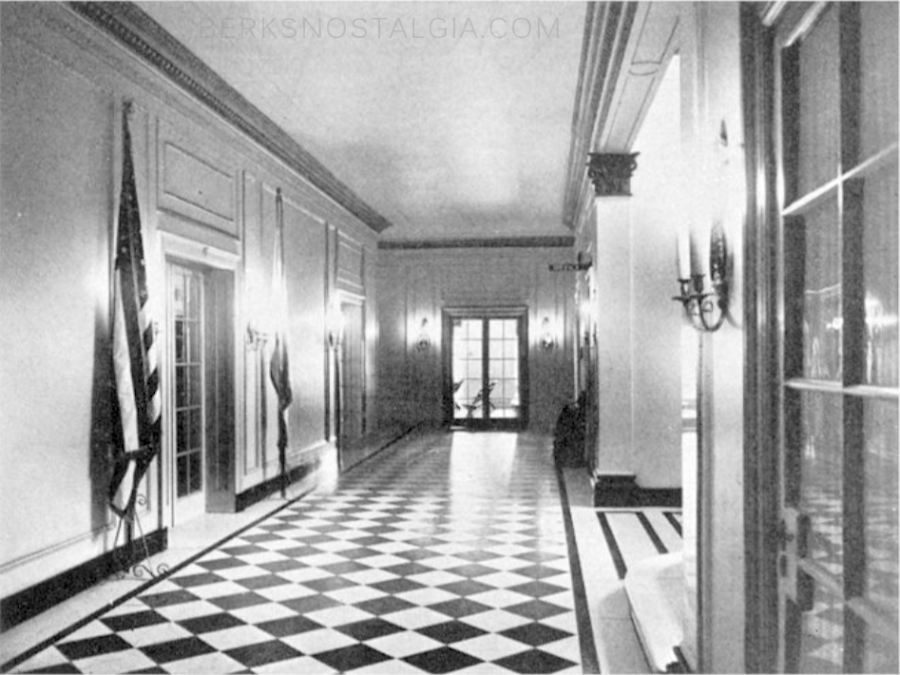 "Billy" Really Did Exist
Luden remarried to Katheryn/Catherine quickly that same year after Annie's death in 1918. Surprisingly, Luden had already fathered a daughter and son with Katheryn in 1912 and 1916. The son was named William Jr. or "Billy" and would have been between the ages of 6-24 while the mansion was owned by the Luden's.
Between 1919-1921 city directories for Reading have Luden and his second wife Katheryn residing at 742 Centre Avenue in Reading. However, in the 1920 census the only resident listed living in 742 Centre Ave was a servant named Jacob Mottman. His occupation is stated as "house watchman". This along with the lack of representation from the Luden's leads me to believe this was not their sole or permanent residence.

It isn't until 1922 that Luden was listed in this directory as living at Bon Air, solidifying this being the correct date that the mansion was completed. Luden was wildly wealthy by this time, and likely built the extravagant Bon Air to have a place close to the headquarters of his candy company regardless of his full-time living situation.

This rules out first wife Annie from haunting the mansion. Annie had no part in the completion and residence of Bon Air which would have happened years after her death. Oddly enough she wasn't even on the deed from 1907 in which Luden obtained the Hill Road property, although listed on many other real estate investments he made during her life as his wife.
Not even the 1930 census places the Luden Family in Reading, instead they are listed as living in Philadelphia at 6399 Drexel Road. Katheryn was from Philadelphia so either they were living at that residence part time or this property had some connection to her family.

William H. Luden Jr. "Billy"
Billy was born on January 15th 1916 in Reading. Unfortunately that is about the only connection to our area I can find. He graduated from Haverford College in 1936. He was listed as living around Montgomery County in the 1930s and 40s, giving him residence well after Bon-Air was sold to the Archdiocese of Philadelphia in 1939.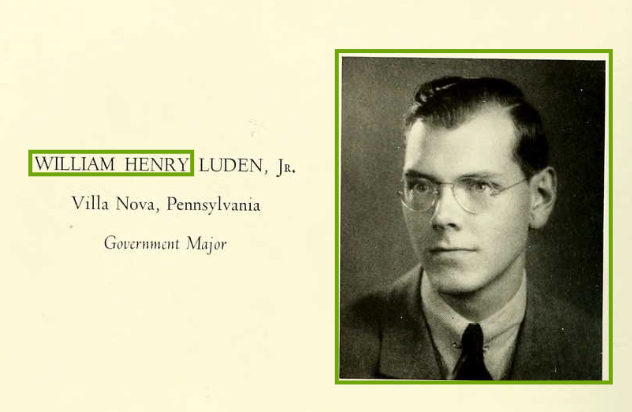 Billy didn't actually die until July 1969 in Munich, Germany where he lived with his wife and two children.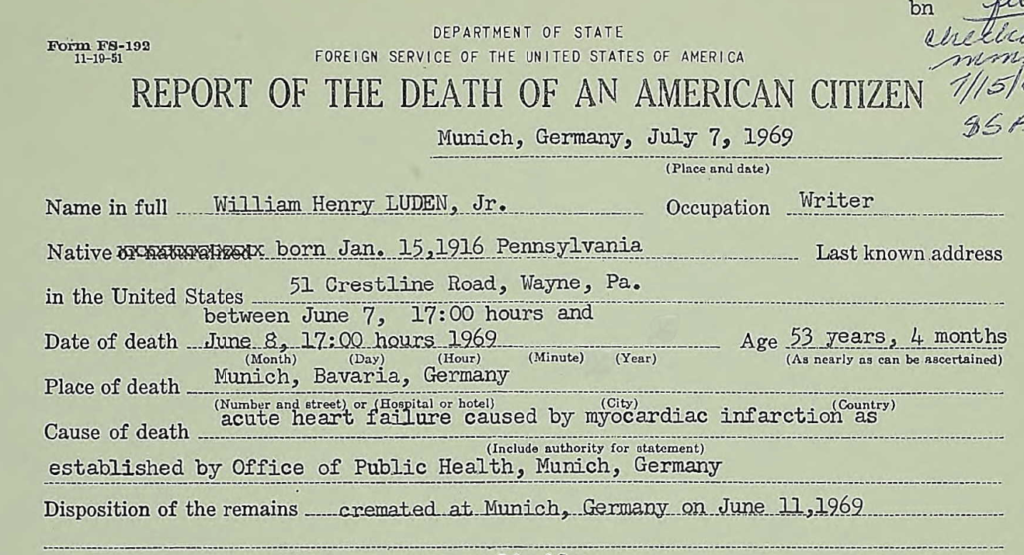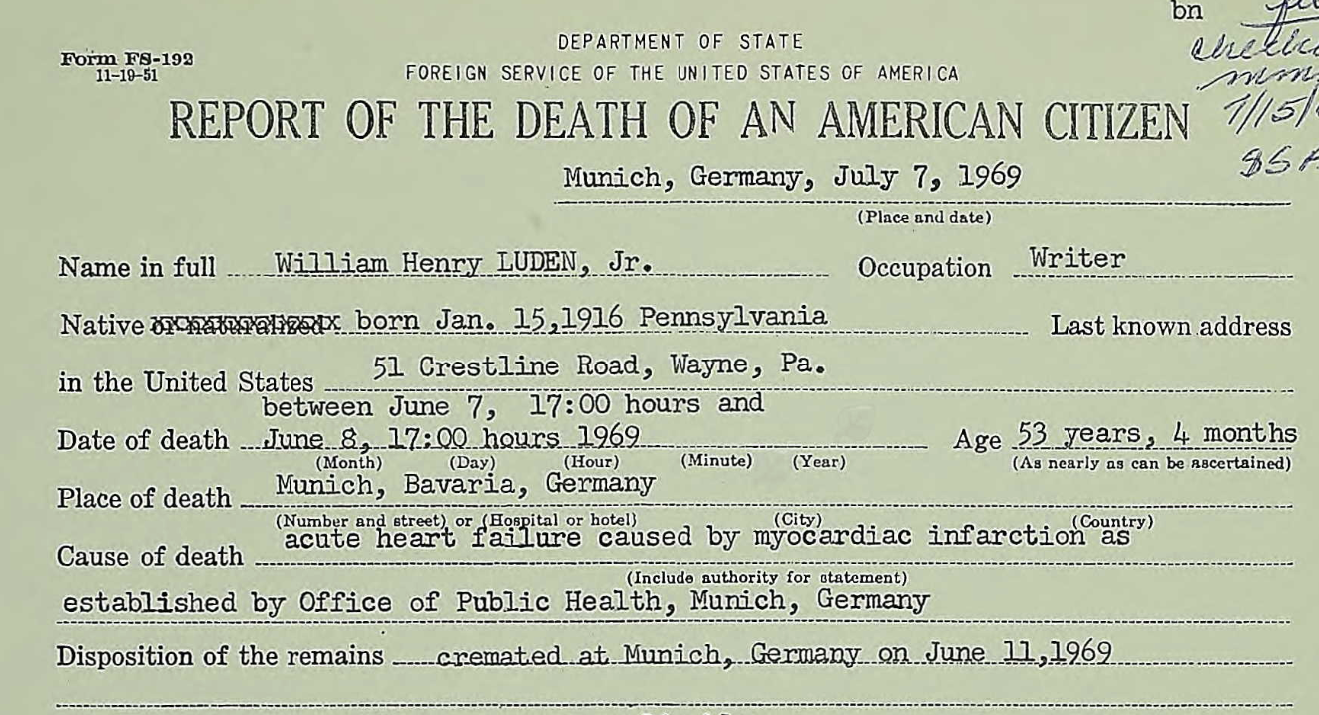 So, it is very unlikely that Billy's spirit made the trek back across the Atlantic to haunt a home that probably didn't mean that much to him; a home he definitely did not meet his demise in as an angsty teenager. I do wonder if he knew students walking the halls of his former home thought he was haunting them before he realistically had the opportunity to do so.
So this is how urban legends are born…
Out of the ten Luden children, only one died before the mansion was sold by their father. William's second-born son Albert died in 1925 at age 32. He actually did perish from suicide by hanging at his own home on Carsonia Avenue. However, there is no evidence that Albert ever resided at Bon Air, as he would have been nearly 30 by its completion. He did work for his father at the candy company, but would have spent his adolescence in the 709 N. Fifth Street residence.

The incident was the wrong place and son per the legend but the correct timeframe and circumstances of death. It isn't surprising that this information was convoluted into urban legend to spook the kids who a generation later wandered the halls of Central Catholic High. Many claim to have had paranormal experiences in the old Luden Mansion, but if there is a ghost haunting Bon Air, it likely isn't that of any members of the Luden Family.