The Vanity Fair Outlets were established first as Reading Glove and Mitten Manufacturing Company in Pennsylvania in October 1899.

The H.D. Lee Company (now Lee) was acquired by the company in 1969 and the corporate name was changed to VF Corporation, a fictitious name that is not even legally registered, to reflect the more diverse product line. Blue Bell Inc., the owner of such brands as Wrangler and JanSport, was acquired in 1986, effectively doubling the size of VF and making it the largest publicly held clothing company.
In 1970, it was the suggestion of M.O. Lee, then President of VF Corporation, that established the VF Outlet business that Surplus products from VF sources including Berkshire International and Vanity Fair were sold to the public from a 5,000 square foot factory store, with only a drop cloth separating it from the company's manufacturing facility.[14] In doing so, VF Corporation created a brand-new retail industry, the outlet mall.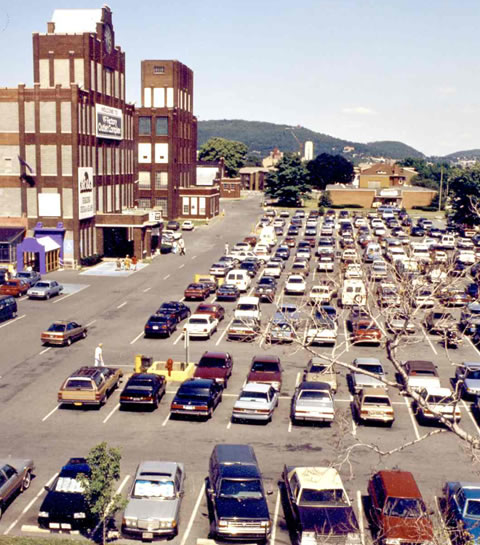 VF Outlet stores offer everyday apparel including brand name jeans, intimate apparel, activewear, swimwear, and more for women, men and children. The company currently operates 79 stores in 31 states nationwide.
Now, the VF Outlet Center, for decades a fixture for locals and a destination for bargain hunters from hundreds of miles away, has been sold to a Philadelphia-based developer.
The developer, Equus Capital Partners Ltd., will spend about $70 million to transform the 34-acre site into a mixed-use office and retail campus that will include the new corporate headquarters for UGI Energy Services.
Equus has big plans for the property. It will demolish about two-thirds of what is known as the Blue Building and all of what is now the Red Building. Two of the five buildings – the ones now housing Dooney & Bourke and Timberland on the south side of Cherry Drive – will also meet the wrecking ball.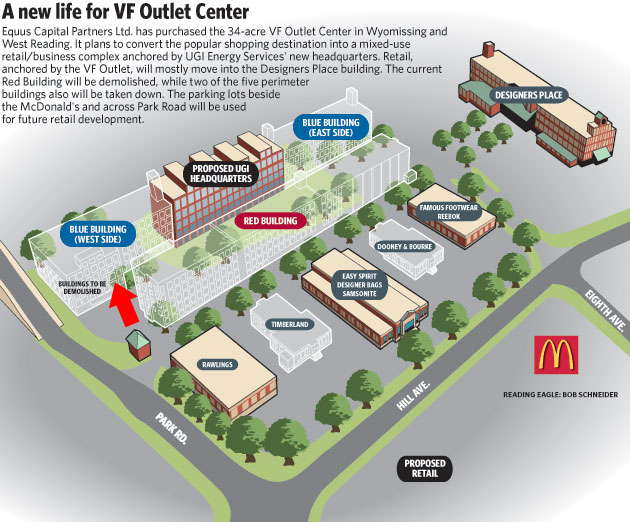 About 35 percent of the space available at the outlet is under lease, according to VF Outlet Inc. Vice President Rick Ott. All the businesses displaced by the construction will be relocated to other areas within the development.The VF Outlet itself will remain open through construction and eventually move into the Designers Place across Eighth Avenue. VF Outlet's corporate headquarters will also move into that building.
Sources:
http://www.readingeagle.com/news/article/vf-outlet-center-sold-to-philadelphia-developer
https://en.wikipedia.org/wiki/VF_Corporation
Read about the history of the Berkshire Knitting Mills