The Reading Drive-In Theatre opened on August 26, 1949. It cost 65 cents to per adult to watch "Perils of Pauline" on opening night. The Reading Drive-In was located on the 5th Street several miles north of Reading in Temple, Pa. The opening day newspaper ad boasted that the cost to build the entire outdoor theatre and amenities cost $200k. In 2020 that would equate to about $2.15 million. It had a capacity for 744 cars. The theatre closed in 1984. A Sam's Club store now operates in the same location.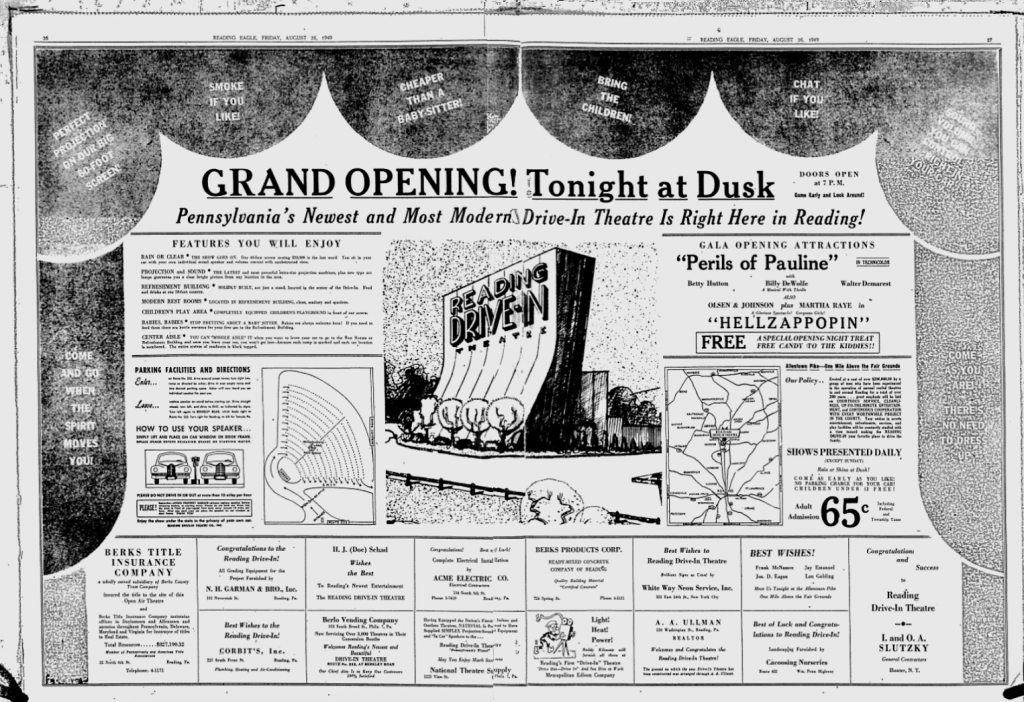 Features you will enjoy:
Rain or clear, the show goes on – Our 60-foot screen costing $20,000 is the last word. You sit in your car with your own individual sound speaker and volume control with unobstructed view.
Projection and Sound , the latest and most powerful extra-size projection machine plus new type are lamps guarantee you a clear bright picture from any location in the area.
Modern rest rooms located in refreshment building, clean, sanity and spacious.
Children's play area – completely equipped children's playground in front of our screen
Babies, Babies – Stop fretting about your baby sitter. Babies are always welcome here! If you need to feed them there are bottle warmers for your free use in the Refreshment Building.
Center Aisle – you can "middle aisle" it when you want to leave your car to go to the Rest Rooms or Refreshment Building and once you leave your car, you wont get lost – because each ramp is marked and each car location is numbered. The entire system of roadways is black topped.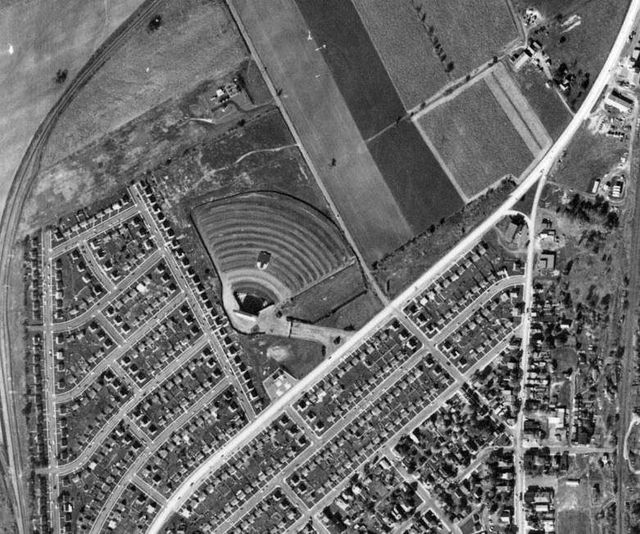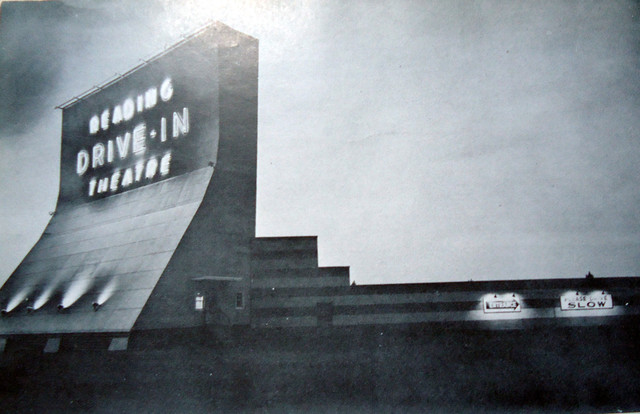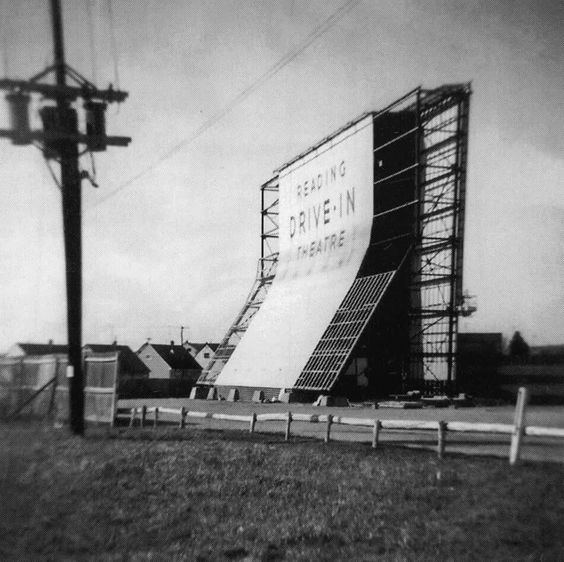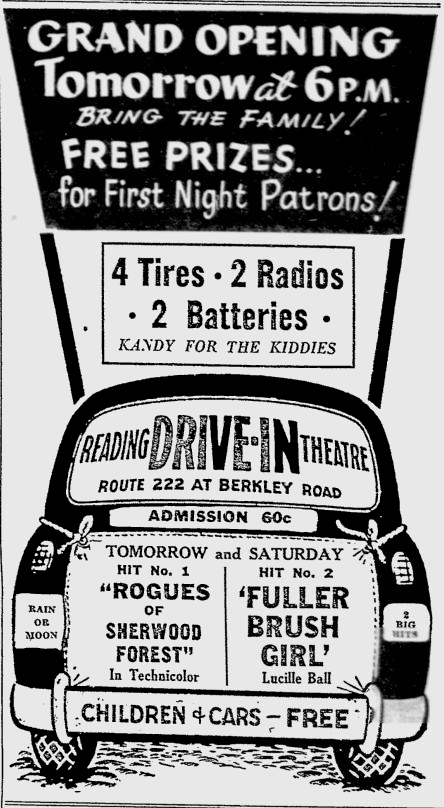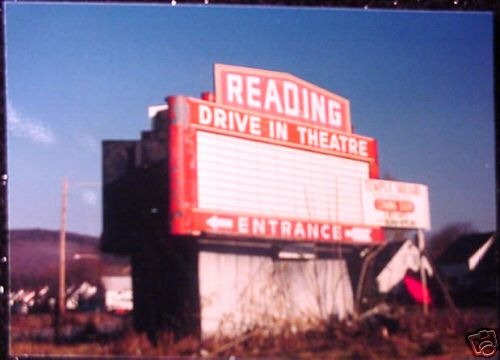 The Reading Drive-In Theatre was built by Philadelphia theater owners Jay Emanuel and Frank L. McNamee in partnership with the Fabian circuit.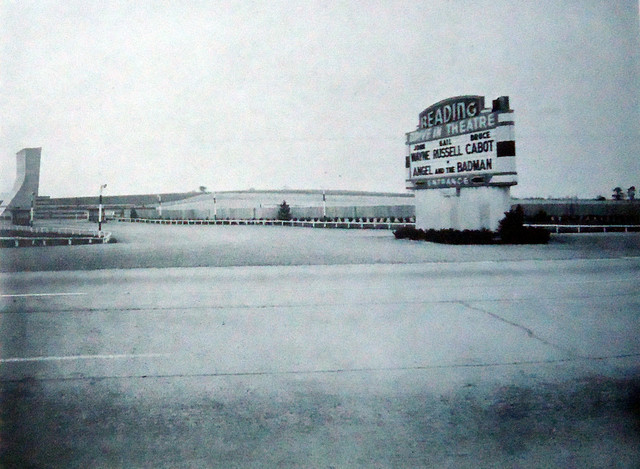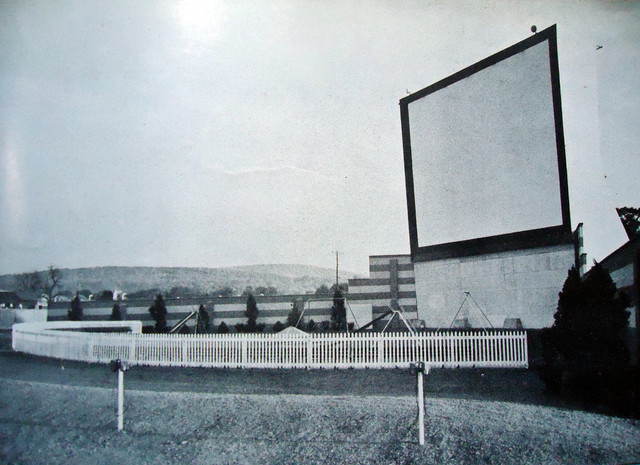 Source: cinematreasures.org