Nichols Discount City had three locations in Berks, one being located at 3001 St. Lawrence Ave, one on 5th Street in Muhlenberg and another in Shillington on Lancaster Ave. They are credited with being one of the first major "Drug Stores" in the mid-Atlantic, with having over 40 stores at one point in the region.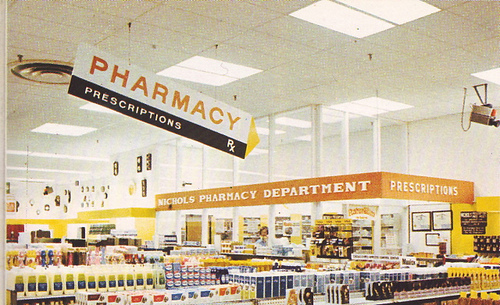 If you visited Nichol's as a kid your fondest memories might be of the toy and candy isles. Or teenagers could buy 45's for just 75 cents.
A former regional retail discount chain in the Northeast, founded in 1938 as a variety store chain in and around New York City. Nichols opened the first Nichols Discount City store in 1960 in Lancaster, Pa.. These stores ranged in size from 80,000 to 100,000 square feet and were usually located in secondary markets. In 1990, Nichols converted their stores to PharmHouse, a discount drug and housewares store.

Source
Below are some photos from inside Nichols Department store that were sent in by Ron Shurr.