The 5'6″ Santa below stood in Pomeroy's famous 6th floor "Toyland".Do you remember this Santa from your visits to Toyland as a child?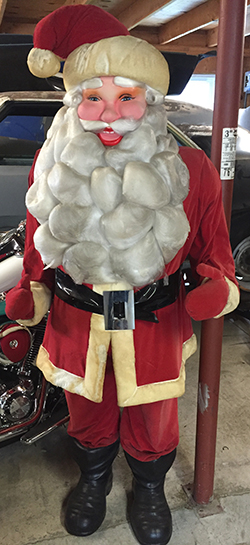 Apparently some Berks County resident inherited the Santa, and was curious on what it was worth, but needs proof that it indeed was from Pomeroy's Toyland. You can read the dialog from the source website below:
QUESTION: When Pomeroy's, a department store located at Sixth and Penn Street in Reading, Pennsylvania, closed, my mother-in-law purchased the five-foot six-inch high Santa that was featured in Pomeroy's Toyland and may have appeared in its window displays. Santa is in good condition but needs to be cleaned up. The white trim in his suit has yellowed. What is my Santa worth? – DM, Reading, PA, Email Question.

ANSWER: The website www.thedepartmentstoremuseum.org contains detailed information about Pomeroy's Reading location. Pomeroy's was located at 600 Penn Street and built in stages between 1892 to 1957. In its finished form, it had 324,000 square feet of space. In addition to Pomeroy's Bargain Basement, there were six floors of merchandise.

The August 9, 2007 edition of the "Reading Eagle" featured an article entitled "Pomeroy's fabled Toyland." [See: http://www2.readingeagle.com/article.aspx?id=54162.] From the mid-1950s through the late 1960s, the entire sixth floor was converted to a "Toyland" for the Christmas holiday season. Creating Toyland began in June or July. "Toyland" opened to the public on Black Friday. The article ends with this quote from Shirley Becker, who worked in Pomeroy's cosmetic department: "It was just like they stepped into Disneyland."

[Author's Aside: If I start writing about my "Toyland" memories, this column will double to triple its normal size. I move forward expressing my regret and sympathy for later generations who never experienced the magical moments of one of the greatest childhood wonders.]

Your challenge is to find proof that your Santa figure is what you claim he is. In today's collecting world, your word is not good enough. You need collaborative evidence, a notarized statement from someone who remembers seeing it or photographic evidence of the Santa figure at Pomeroy's Toyland or in a window display. Start with your local historical society – the Berks County Historical Society. Check the files of the "Reading Eagle," a true gem of a community newspaper. Ask if the "Reading Eagle" would run a story about your Santa figure. If yes, stress that you are seeking pictures of the Santa. If he was in Toyland, chances are high that individual children had their pictures taken next to him.

If you cannot prove the Pomeroy connection, your Santa figure is worth between $200.00 and $250.00. The Pomeroy connection adds another 50 percent. These values are restricted to two principal markets – Reading area collectors and Christmas collectors. The Golden Glow of Christmas Past, a Christmas collector's club, occasionally holds its annual meeting in eastern Pennsylvania. Check the club's website. If you still have the Santa when an annual convention occurs, take it, and watch for the individual who drools the most. He/she is your potential buyer.