The earliest years of the Reading Fair were held at City Park and then a plot on North 11th street. During the early 1910s the Berks County Agricultural Society was tired of leasing the land at North 11th Street and wanted a more permanent location they could call their own.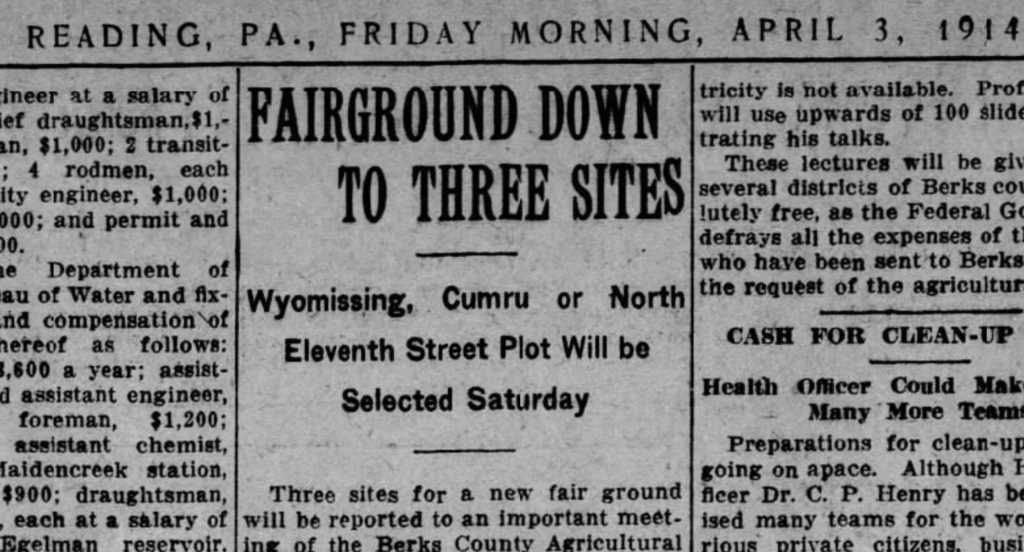 On April 3rd, 1914 it was announced in the Reading Times that they had narrowed it down to three locations – West Wyomissing, Cumru Township and North 11th Street.
There was some opposition to the prospective West Wyomissing fairgrounds location. An April 6th, 1914 Reading Times opinion piece titled, "Horsemen Opposed to Fair Ground Site at Wyomissing" explained that the "horsemen" were considering breaking away from the Agricultural Society to build a track in Millmont if the fairgrounds purchase in West Wyomissing went through. The article was vague and signed simply, "Horseman". Despite this opposition, on April 7th it was reported in the Times that an engineer was scheduled to survey the site for the construction of a race track.
The subdivision plan for West Wyomissing had been laid out in 1913 by the Klein Brothers who had purchased what was at the time sprawling farmland. The vast majority of the homes that now occupy the suburban West Wyomissing neighborhood were not built until the 1930s and into the post-war era. It is hard to know exactly where this prospective Fairgrounds would have sat, but one of the requirements was that the fairgrounds be accessible by rail, so the property would have butted up to the P & R's Lebanon Valley line. It is likely that the fairground's train stop would have been near the iron bridge with the grounds spanning the area east of West Wyomissing Boulevard.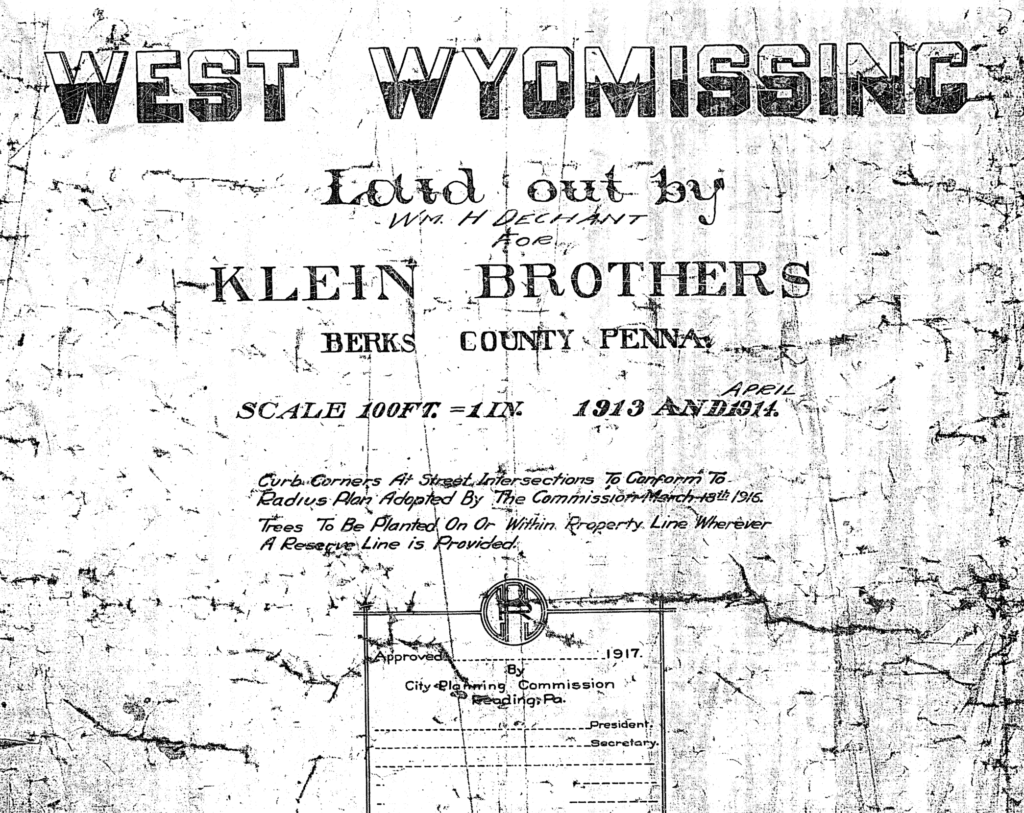 By April 6th, 1914 the Reading Times announced that the 40-acre West Wyomissing plot had been chosen, and by the 9th that the contract had been signed. However, I have been able to find no record of a deed transfer ever happening. Interestingly the original subdivision plan seen above, accessible in Berks Deeds search, indicated that the planning was created in 1913 and altered in April 1914; the same month that the fairgrounds purchase supposedly went through.
The last mention of the fair site being in West Wyomissing was only a few months later in July 1914; an article stating the land and buildings were not ready for September 1914's Reading Fair. Reading's 1914 Fair instead was again held at the North 11th street site. In November 1914 the Times reported the Agricultural Society was suddenly looking for new sites again.
Clearly the deal fell through, though there was no mention of exactly why. Around the same time this all transpired in April 1914 the Fair Company organized – breaking away from the Agricultural Society. Only a year later In July of 1915 they purchased the 56 acres that the fair was built on in Muhlenberg Township.
Can you imagine if it had worked out in West Wyomissing?