Merry Christmas Eve! When I was a child, I was always told to look to the Pagoda on Christmas Eve, and when it blinked, Santa was spotted nearby. That marked bedtime on Christmas Eve for countless children over the decades.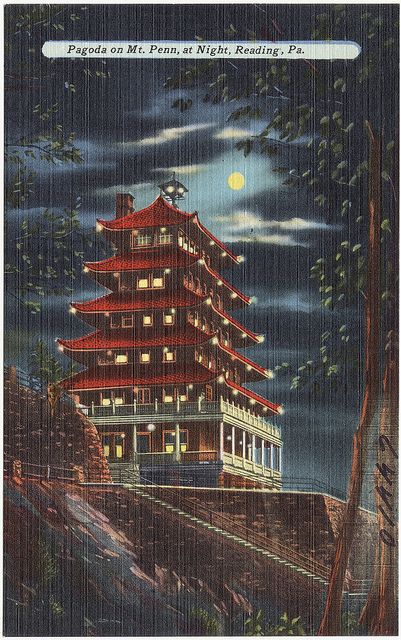 According to this WFMZ article,
Children in Reading and throughout Berks County will be looking up at the sky on Christmas Eve in anticipation of St. Nick.

They will know that Santa is getting close to Berks County when the Pagoda's lights start blinking red at 9 p.m. on Dec. 24th.

It's a simple but cherished Reading tradition that dates back at least three decades.

Cindy Kauffman, Pagoda manager and co-events coordinator, said the annual flashing of the Pagoda lights that signals the near-arrival of Santa Claus is always exciting.

"When they see the lights all the little girls and boys know they need to go to bed because Santa is on his way," Kauffman said.

Through the years, she said, it's become a holiday custom that both the young and old look forward to.

"We get a lot of parents that call and thank us for doing it," Kauffman said. "I myself remember as a little girl seeing the lights and hearing on the radio that Santa can be seen on Reading's radar."

There are three rows of red LED lights on the Pagoda that are strategically placed for maximum illumination, and that help make it such a magnificent spectacle, not just around the holidays but year-round.

Neon red lights were replaced by LED lights in 2008.

Kauffman said the lights will be blinking for about 10 to 15 minutes on Christmas Eve.

Also, on Dec. 21st and Dec.23rd, the Pagoda will host Santa Claus from 1 p.m. to 3 p.m.

Families are welcome to come and visit with Santa, who will be handing out candy canes to children.

Also, there will be a public New Year's Eve gathering at the Pagoda from 10 p.m. until midnight on Dec.31st. Patrons can purchase hot chocolate, coffee and donuts and enjoy the fireworks that will announce the new year.
This Reading Eagle article goes a little into the history of the tradition,
Q: Do the Pagoda lights still flash on Christmas Eve?

In Reading, there is one surefire way to know that Santa Claus is on his way: Look up at the Pagoda.

For nearly 40 years, the Pagoda's lights have flashed on Christmas Eve when St. Nick and his reindeer are spotted over Berks County. For kids, it's a warning to hurry off to bed to make sure the jolly old elf stops at their house.

Recently, Maggie Cochran of Wernersville wrote to the Reading Eagle wondering if the Pagoda lights still flash on Christmas Eve.

Yes, indeed. On Friday, Charles P. Rampolla, vice president of Pagoda-Skyline Inc., will be at his familiar post on Mount Penn, flicking the Pagoda lights on and off for 15 minutes starting at 9 p.m.

"It's a tradition," Rampolla said.

It's fitting that the fabled Pagoda, the most recognizable landmark in Berks, is the county's Santa signal.

After all, the Pagoda's lights were once used to flash baseball scores in the days before radio.

And with such a visible icon sitting high atop Mount Penn, it just makes sense to use the Pagoda as a communication device. Which leads us to Christmas Eve.

Growing up in Reading in the 1940s, Bob Gerber, 76, can remember looking to Mount Penn on Christmas Eve with his radio tuned to WEEU.

A broadcaster would mention that Santa was spotted over the city. Without fail, the lights of the Pagoda would start to blink.

For some reason, however, the tradition waned and was discontinued for some years.

But in the early 1970s, Gerber, who had become Reading's head electrician at the time, decided to resurrect the Christmas display. He and former Reading Mayor Warren Haggerty were neighbors, and the two got to reminiscing one day about the Pagoda lights on Christmas Eve.

So, Gerber started tinkering with a timing device (no longer working), wired it up to the Pagoda's lighting system and helped bring the holiday event to a new generation of Berks County kids.

"You'd be surprised how many people look forward to it," he said.

Gerber retired in 1997, and in doing so he turned the Pagoda lighting duties over to others. That's where Rampolla comes in.

Since the late 1990s, it has been his job to keep the tradition alive.

"We want to keep it going," Rampolla said. "I'll still be flashing the lights for years to come."